politics
North Korea Divisions Cast a Cloud Over First Trump-Moon Summit
By , , and
Moon wants dialogue, while Trump is pushing maximum pressure

Otto Warmbier's death complicates moves toward engagement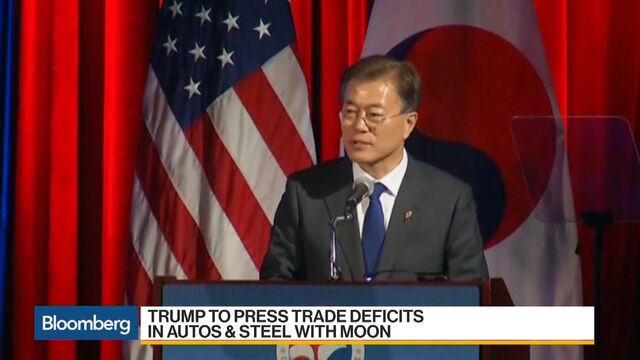 South Korea's new leader Moon Jae-in will bring a fundamentally different view on North Korea when he meets Donald Trump for the first time at the White House this week.
Cracks have emerged between the longstanding allies over how to force Kim Jong Un's regime to drop its push for nuclear weapons. Moon prefers dialogue, while Trump faces pressure to get tough after the death of a 22-year-old U.S. student soon after he was released from prison in the isolated nation.
In a speech to business leaders in Washington on Wednesday evening, Moon said the alliance between the nations would only become stronger and stressed the need to resolve the North Korea nuclear issue. The leaders' meetings this week, beginning with a dinner Thursday night and culminating in a summit and a joint statement Friday, are aimed at building a personal relationship that can bridge policy differences.
Those differences risk buying North Korea more time to develop missiles that could deliver a nuclear weapon to the U.S. mainland. Moon, a former human-rights lawyer who took power last month, has raised concerns in Washington after he wavered on the deployment of a U.S. missile shield in South Korea and an adviser suggested downsizing joint military exercises.
"This is a scene-setting as well as a get-acquainted meeting," said Ralph Cossa, president of the Pacific Forum CSIS in Honolulu. "Each will be walking on eggshells, hoping to avoid the appearance of contention, which would only play into North Korea's favor."
While Moon needs Trump's backing to push for dialogue, the U.S. isn't ready to soften its tone toward North Korea nor move toward direct talks, according to officials from South Korea and the White House. Otto Warmbier's death before the summit was bad timing for Moon, the South Korean official said.

Trade Differences
Trump administration officials sought to downplay the gulf over the approach to North Korea. Trump and Moon both want a complete elimination of the North Korean missile threat, one U.S. official said, and he indicated Trump is interested to hear more detail from Moon about his ideas for engagement, including the prospects for North Korean participation in the 2018 Winter Olympics. The U.S. president also is expected to convey the importance of the two countries closely coordinating their approach to North Korea, the official said.
Trump is less interested in downplaying his views on trade imbalances, particularly in cars and steel. The U.S. president wants South Korea to reduce barriers to U.S. auto exports to the country and is concerned by the "enormous" amount of surplus steel the U.S. imports from the country, especially shipments that come via China, the U.S. official said. 
As a presidential candidate, Trump slammed the U.S. trade agreement with South Korea as a "job-killing" deal.
Still, while there are obvious areas of difference with Moon, Trump believes the relationship between the leaders is important and is committed to working together on common interests, said the official, who insisted on anonymity to discuss the meeting.
Read More: Moon enlists Korea Inc. to disarm Trump's trade threat
A major difference is China's role in dealing with North Korea. Moon has sought to smooth out relations with Beijing after U.S. deployment of the Terminal High Altitude Area Defense missile shield prompted China to retaliate against South Korean companies. Earlier this month, he suspended the installation of the remaining components of the Thaad system.
'Not Worked Out'
Trump, on the other hand, appears to be again cooling toward China. In April, he lauded President Xi Jinping for helping to rein in North Korea, citing the cooperation as a reason he hadn't issued punitive trade measures against China -- one of his campaign promises. Following Warmbier's death, Trump tweeted that China's efforts have "not worked out."
Trump's recent tweet "may suggest a turn in the strategy towards more direct sanctioning of Chinese companies, financial institutions, and individuals that have facilitated North Korean business in violation of U.S. law," Victor Cha, senior adviser and Korea chair at the Center for Strategic and International Studies in Washington, said in an email.
The appearance of unity between the U.S. and South Korea is crucial to show North Korea that threats of military force are credible. At the same time, Moon has an incentive to do whatever it takes to prevent Trump from acting unilaterally: Seoul is in range of North Korean artillery units and stands to get bombarded in a retaliatory strike.
35,000 Feet
North Korea has sought to further drive a wedge between the U.S. and South Korea in the run-up to the meeting.
"The South Korea-U.S. alliance is just disgraceful master-servant relations characterized by domination and subjugation, arbitrariness and servility," the state-run Korean Central News Agency said in a commentary on Monday.
Evans Revere, a former U.S. diplomat in South Korea, said he reminded his friends in the country of the 2001 meeting between George W. Bush and Kim Dae-jung, who won the Nobel Peace Prize for his "Sunshine Policy" efforts to engage with North Korea. Kim, eager to convince Bush of the need for dialogue, returned to Seoul humiliated after the U.S. president publicly rebuffed his overtures and insulted Kim by calling him "this man" at a news conference.
"I said don't push it too hard, because it was not very pretty, testy, it got confrontational at times," Revere said, recalling his conversations. "My advice is keep the conversation at 35,000 feet."
— With assistance by Toluse Olorunnipa, and David Welch
(
Updates with Moon comments in third paragraph.
)
Before it's here, it's on the Bloomberg Terminal.
LEARN MORE