Nominee for Pentagon's No. 2 Backs Sending Ukraine Some Weapons
By
Shanahan provides position before Senate panel votes approval

McCain had skewered ex-Boeing executive as evasive at hearing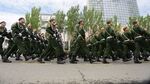 President Donald Trump's nominee for deputy defense secretary has endorsed providing defensive weapons to Ukraine, a reversal from past U.S. policy and from his refusal to offer his thoughts on the issue at his Senate confirmation hearing.
Patrick Shanahan's written answers to the Senate Armed Services Committee smoothed the way for the panel's vote Wednesday to approve the former Boeing Co. executive to serve as the Pentagon's No. 2 civilian official. Senator John McCain, the committee's chairman, chided Shanahan at his confirmation hearing on June 20 for "just ducking us" on that and other issues and threatened to withhold his support.
"Yes. I support lethal defensive security assistance to Ukraine," Shanahan said in the new answers provided this week. "The United States must do more to counter Russia's aggressive behavior and support the people of Ukraine."
President Barack Obama's administration provided Ukraine with billions of dollars in aid along with non-lethal military equipment, such as night-vision goggles and bomb disposal robots, but stopped short of sending weapons. McCain leads a coalition of senators who have pushed for expanded assistance. The Arizona Republican has called for supplying the U.S. Army's portable Javelin antitank missile.
Policy Uncertain
The Trump administration hasn't settled on a policy on arms for Ukraine. Trump met at the White House this month with Ukrainian President Petro Poroshenko but no announcement was made about expanding U.S. military assistance. Trump suggested during his election campaign that he might lift sanctions against Russia and recognize Crimea, which Russia annexed in 2014.
Defense Secretary James Mattis hasn't directly addressed the arms question. In written responses before his confirmation hearing in January, Mattis said, "I support aid to Ukraine in support of their sovereignty. I owe a degree of confidentiality about my advice to the President-elect and would prefer to brief the Committee in Executive Session on this issue."
Another issue that produced tension at Shanahan's hearing was his refusal to offer any opinion on options to respond to Russian violations of the treaty on Intermediate-Range Nuclear Forces.
"You're not making me happy," McCain said. "We expect straightforward answers."
In his revised written answer this week, Shanahan said he'd favor withdrawal from the 1987 treaty as a last resort.
"While I understand that the Administration is reviewing a number of potential response options, it seems clear that the United States is operating with one hand tied behind its back since we are the only party to the treaty that is following the rules," he wrote.
Before it's here, it's on the Bloomberg Terminal.
LEARN MORE