McConnell Scrambles to Win GOP Votes on Troubled Health Bill
By
With vote delayed until mid-July, negotiations get underway

After meeting with senators, Trump said they're getting close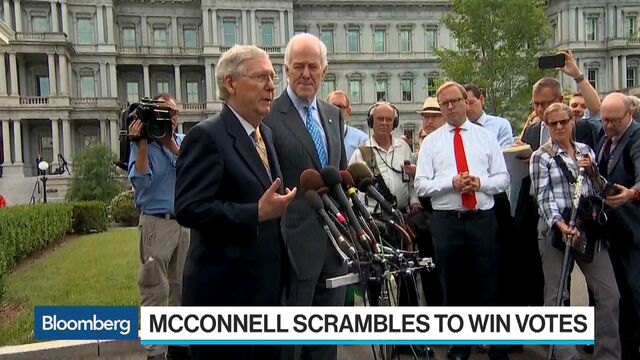 Senate Majority Leader Mitch McConnell may have bought himself some time by delaying a vote on his embattled health-care bill, but he faces a difficult and narrow path in trying to deliver on seven years of promises to repeal Obamacare.
After McConnell's decision Tuesday to postpone a planned vote until mid-July, Republican leaders plan to spend the next few days haggling over changes to his draft health-care bill, which isn't even a week old. The goal is to reach a deal by Friday so the Congressional Budget Office can scrutinize it over the July 4 recess, senators said.
Over the coming days and weeks, McConnell will have to navigate a host of competing demands from moderates and conservatives as he strives for the 50 votes needed to pass a measure under filibuster-busting procedures. No Democrats in the chamber back the drive to replace the 2010 Affordable Care Act with a Republican version that includes a repeal of Obamacare's tax increases and expansion of Medicaid.
McConnell won't be able to ignore many of the Republican holdouts. During the weeklong recess, many of them are likely to see sit-ins at their offices, a shower of phone calls and -- for any Republicans brave enough to hold them -- town hall meetings crowded with rowdy constituents.
But Republicans have been at this point before. And as House Speaker Paul Ryan showed in late April and May, it's not impossible to pull an Obamacare replacement back from the brink. Ryan initially had to pull the House's health measure after GOP dissidents balked at its provisions, then after revisions pushed it through on a razor-thin 217-213 margin.
Smaller Margin
Senate Republican leaders, however, have a smaller margin of error. Republicans control 239 of 435 seats in the House, but just 52 of 100 Senate seats.

GOP leaders seemed surprised by the extent of the objections from within their party. At least five Republicans made clear ahead of time that they weren't ready to advance the measure this week. and another three Republicans announced their opposition after McConnell delayed the vote.
Moderate holdouts, including Susan Collins of Maine, are demanding changes that would soften some of the bill's sharp cutbacks to Medicaid, as well as reduce the number of Americans likely to end up without insurance under the measure, which the Congressional Budget Office put at 22 million. Conservatives want to strip out more of Obamacare's regulations.
Billions of dollars in U.S. health spending are at stake for hospitals, insurers and doctors, who are worried by the CBO estimate, which projects those 22 million Americans would lose coverage under the Senate bill by 2026.

Senate Republicans met with President Donald Trump at the White House Tuesday afternoon to discuss the path ahead. McConnell said he hopes to hold a vote in July when the Senate returns from a weeklong recess.
'Getting to Yes'
"The president got an opportunity to hear from the various members who have concerns about market reforms and the future of Medicaid, Medicaid expansion," McConnell told reporters after the meeting. "Everyone around the table is interested in getting to yes."
He added later, "I'm pretty optimistic we're going to get there."
During the meeting, Trump said they were getting close.
"This will be great if we get it done," he said. "And if we don't get it done, it's just going to be something that we're not going to like. And that's OK, and I understand that very well."
In a Twitter message early Wednesday, the president said he was "totally engaged" in the health-care process, despite media reports suggesting he hadn't learned the intricacies of the policy.
"Wrong, I know the subject well & want victory for U.S.," he wrote.
But the remaining gaps are quite substantial. Take Mike Lee of Utah, who one was of four conservatives who issued a joint statement of opposition to McConnell's draft.
'Left Behind'
"The first draft of the bill included hundreds of billions of dollars in tax cuts for the affluent, bailouts for insurance companies, and subsidies for lower-income Americans," he said in a statement after the delay. "But it ignored the middle-class families who have borne the brunt of Obamacare, and who have been left behind by both parties in Washington for too long."
Those tax cuts -- which total some $700 billion over a decade -- are a central component of the Republican plan and mirror the cuts included in the House-passed bill, H.R. 1628.
Shortly before McConnell announced the delay, several moderates, including Collins and Bill Cassidy of Louisiana, told reporters they hadn't been approached by Republican leaders or the White House to negotiate changes. It was the first sign that leaders were shifting to a longer view.
Cassidy, a Baton Rouge doctor, is seen as a pivotal vote. He said Tuesday the CBO's conclusion was "not a very good score," and that changes are needed, including changes in a planned income-based cutoff for subsidies for consumers buying insurance on the Obamacare exchanges. Otherwise, too many of his home-state constituents will be cut off.
Medicaid-Expansion States
Cassidy said he's also concerned about how the plan affects states like his that took advantage of Obamacare's expansion of Medicaid.

That concern is shared by two other critical moderates from Medicaid-expansion states, Shelley Moore Capito of West Virginia and Rob Portman of Ohio. Both also seek $45 billion in funding for the opioid epidemic, while the Senate bill includes just $2 billion.
"As drafted, this bill will not ensure access to affordable health care in West Virginia, does not do enough to combat the opioid epidemic that is devastating my state, cuts traditional Medicaid too deeply, and harms rural health care providers," Capito said in a statement yesterday.
Collins and Lisa Murkowski of Alaska are both opposed to a one-year restriction on Planned Parenthood funding in the bill and want to strike it out. They're also concerned about the bill's Medicaid cuts and are concerned about the impact of higher premiums on older Americans, particularly in rural areas.
'Central Issue'
Conservatives including Rand Paul of Kentucky, Ted Cruz of Texas, Ron Johnson of Wisconsin and Lee want to see fewer insurance regulations than in the GOP leadership measure. They say that would help drive down the soaring insurance premiums plaguing the Obamacare exchanges, where people who don't have employer-sponsored coverage or qualify for Medicaid can buy individual insurance policies.
"That is the central issue," Cruz said Tuesday. "It will be our test for success or failure, what happens to premiums."
But efforts by Republican leaders to circle the wagons around the bill seemed to have already paid dividends with Johnson, who said during an MSNBC interview Wednesday that after learning more about the legislation, he did not believe the impact would be dire. The Wisconsin senator said that while he opposed the timeline and approach undertaken by the GOP leadership, it may make sense to attempt to pass a bill on a party-line vote.
"I don't think people are going to be dying because of what Republicans are trying to do," he said.
Collins and Murkowski flanked Trump at Tuesday's White House meeting, yet McConnell and Trump appeared to be seeking some early inroads with conservatives. Cruz met with McConnell, and the senator noted he and Trump spoke a few days ago.
Paul had his own one-on-one meeting with Trump Tuesday, simply tweeting afterward that Trump "is open to making bill better. Is Senate leadership?" A White House official who requested anonymity said Trump pointed to a part of the CBO analysis that projected a 30 percent drop in premiums over a decade and discussed his desire for a second health measure that would have other changes, including allowing insurance policies to be sold across state lines.
Democratic Opposition
Democrats, who have been uniformly critical of the Republican bill, said it's time for the GOP to begin a bipartisan conversation.
"We have a whole bunch" of Democratic proposals to fix Obamacare," Senate Minority Leader Chuck Schumer said. "But they first have to stop sabotaging the existing health law and, second, they've got to get rid of this mania for tax cuts and destroying the social safety net."
Senator Chris Murphy said McConnell had not given moderates in his party, including Murkowski and Collins, "license" to negotiate with Democrats on narrower legislation that would stabilize the insurance markets.
"I think there's a conversation to be had," the Connecticut Democrat said in an interview Wednesday with MSNBC.
"Either Republicans will agree," McConnell said Tuesday, "and change the status quo, or the market will continue to collapse and we'll have to sit down with Senator Schumer, and my suspicion is that any discussion with the Democrats would include none of the reforms that we'd like to make both on the market side and the Medicaid side."
Senator Bob Corker, a Tennessee Republican, said he's convinced the concerns of holdout GOP senators "can be resolved" and said the delay is "an acknowledgment Republican senators really care about getting this right."
Part of Republicans' argument for urgency in replacing Obamacare is their repeated assertion that the health-care system is collapsing. While insurers including Aetna Inc., UnitedHealth Group Inc. and Humana Inc. have pulled out of the individual market in some states, part of that decision stems from uncertainty about the future of the Affordable Care Act as Republicans seek to dismantle that law.
— With assistance by Sahil Kapur, Justin Sink, and Steven T. Dennis
Before it's here, it's on the Bloomberg Terminal.
LEARN MORE