politics
May Says There'll Be No 'Unlimited' Brexit Transitional Phase
By
Prime minister faces party infighting over nature of Brexit

Finance chief Hammond says lengthier transition is needed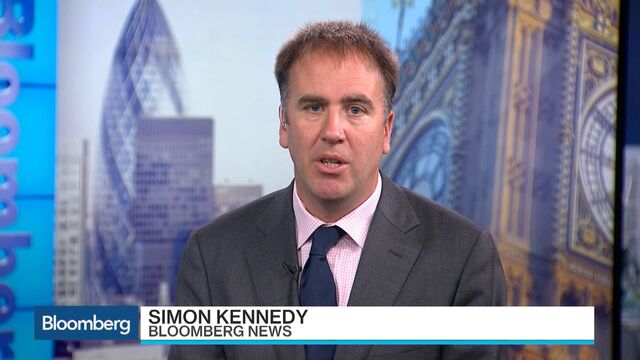 Prime Minister Theresa May said she won't accept an "unlimited" transitional phase as Britain leaves the European Union, seeking to draw a line under an issue that's created cracks in her own cabinet.
"For very practical reasons when we know what the future relationship with the European Union will be, we may need implementation periods," May told Parliament on Wednesday in London. "I'm very clear, this does not mean an unlimited transitional phase. We are going to leave the European Union. That's what people wanted and that's what we will deliver."

May was responding to a question from backbench Tory lawmaker William Wragg, who asked the premier to confirm "that any transitional arrangements will be for a strictly time-limited period, and that any suggestion of ever-retreating deadline, a perpetual status quo would fall short of honoring the decision made by the people of this country to leave the EU?"
After losing her majority in this month's general elections, May faces infighting within her own party over the nature of Brexit. She called the election hoping to win more seats, giving her a mandate for her Brexit vision. Instead, the loss of 13 seats has emboldened remainers in her party such as Chancellor of the Exchequer Philip Hammond, who are now trying to soften the country's approach to the divorce.
On Tuesday, Brexit Secretary David Davis said the U.K. was likely to quit the EU's customs union on the first day of Brexit in March 2019. Speaking in Germany, Hammond, for his part, restated his view that a lengthier transition period is needed to help businesses avoid a sudden change in trading arrangements.
Hammond last week suggested to BBC radio that a transitional phase could last as long as four years, taking the country past the next general election. Davis on Tuesday accused the chancellor of taking inconsistent positions on a bridging deal, before pointing to a different timeline Hammond has advocated in the past. 
"What he's actually said, the most important thing is it's got to be done before the election so that's a maximum of three years," Davis said, insisting the two ministers were "entirely aligned" in their thinking on the length of any transition.
— With assistance by Tim Ross
Before it's here, it's on the Bloomberg Terminal.
LEARN MORE