Technology
Look Out Google and Facebook. Amazon's Little Ad Business Is Growing Fast
The online retailer's customer data is "a goldmine".
By and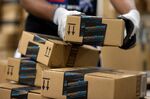 During the annual Cannes Lions advertising conference on the French Riviera, the five-star Carlton Hotel becomes a deal-making hub, where in recent years the likes of Google and Facebook have joined industry heavyweights such as WPP and Interpublic Group as online advertising booms. This year, a third tech giant moved onto the must-meet list: Amazon.com.
The online retailer booked a seventh-floor suite to promote its nascent ad business. Though the site is the web's largest online retailer, it lags far behind Google, Facebook, and even Microsoft in ad revenue. While Amazon is in some respects just one big advertisement for all the goods it sells, it has done little to carve out ad space on its pages. That's changing as the company has better understood the value of the insights it has into what consumers buy. "They're sitting on a goldmine of valuable data," says Jason Heller, head of digital marketing operations at consulting firm McKinsey & Co.
Until recently, Amazon focused on highlighted search results and banner ads. But the company is now emphasizing a slew of options such as coupons, embedded buttons that add items to wish lists, offers of standing monthly orders, space on its shipping boxes, and a network that delivers ads to other websites. Some of those services are even available to brands that don't sell on Amazon.

Amazon doesn't break out ad sales, but researcher Emarketer estimates they will jump by a third to $1.5 billion this year and reach $2.4 billion by 2019. Google, by contrast, generated more than $79 billion in ad revenue in 2016 and Facebook reported $27 billion. Amazon declined to comment for this story, but on an April 27 conference call, Chief Financial Officer Brian Olsavsky said "we're happy with the growth" in advertising.
Because customers make purchases directly on its website, Amazon knows not only what they're searching for, but what they've actually bought -- giving it a deeper understanding of purchasing habits and a better chance to anticipate what people might buy next. That advantage could be strengthened by the company's surprise acquisition of Whole Foods, which will give Amazon greater insight into the $800 billion a year Americans spend on groceries -- a market that includes major household brands with big ad budgets. "They're going to be a force," says Martin Sorrell, chief executive officer of WPP, who met with Amazon at Cannes.
And because Amazon is a shopping site, people don't need to leave to make a purchase, as they do when they see an ad on Facebook or Google. On Facebook and Google "we're still one step away," says Keith Weed, chief marketing officer of consumer-products giant Unilever, which sells everything from Dove soap to Colman's mustard to Vaseline. "When it comes down to Amazon, you've got a sale."
Clients of WPP's GroupM ad-buying unit, which represents Colgate and Unilever, are spending 10 to 15 times more per month this year on paid Amazon search ads than they did a year ago, says Edward Foster, GroupM's global head of search. "It's absolutely exploding" as money shifts from paid searches at Google and Microsoft's Bing, Foster says.
Another advantage is that Amazon's search brings up customer-generated product ratings that are widely used, even by shoppers who plan to buy elsewhere. That makes advertising on the site relevant for sales that will happen in brick-and-mortar stores and other websites. Amazon can also claim to be a "brand safe" site that won't inadvertently juxtapose ads for diapers, cell phones, or socks with terrorist videos or fake news stories. Amazon is a safer environment than "social media platforms like Facebook and the user-generated video platforms like YouTube," says Paul Sweeney, director of North American research for Bloomberg Intelligence.
Amazon's push into advertising won't necessarily be welcomed by the 2 million-plus merchants who sell their goods there. Interest in advertising on the site intensified last year after Amazon tightened controls on "incentivized reviews" in which vendors gave away items in exchange for favorable reviews that raised the products in search rankings and boosted sales, according to Mike Canarelli, founder of digital marketing agency.
And with sponsored products and banner ads taking up space on the page, unpaid-for results based on relevance will drop to a lower position. Since few shoppers will slog past the first page of listings, vendors will be more likely to buy ads. That means a merchant who used to pay Amazon a 15 percent commission on a sale is now spending as much as 30 percent when the cost of advertising is factored in.
"If brands want to sell their products to the shoppers who buy on Amazon, they have to share more of that revenue by buying ads," says Canarelli, who says he's had dozens of inquiries in the past year from clients seeking to develop Amazon advertising strategies. "People aren't thrilled by it, but Amazon has an audience and they generate sales."

So far, Amazon has remained a bit player in Cannes, especially when compared to its online rivals. Google dished out ice cream and apple-kale smoothies to attendees on its YouTube beach terrace and hosted volleyball games on the sand. Facebook offered fruit skewers and a juice bar on its terrace further along the seafront, and brought in Sir Ian McKellen—Gandalf from "Lord of the Rings"—for an onstage talk. Up in Suite 740 of the Carlton, there were no celebrities, no branded sunglasses or hats—just an Amazon Echo device, a few logoed pens, and a simple lunch with olives and vegetarian quiche.
That, though, could soon change, predicts Nick Emery, global CEO of Mindshare, a media agency owned by WPP. "Give them a couple of years and they'll have half the beach," he says, "if they decide to take it seriously."
Before it's here, it's on the Bloomberg Terminal.
LEARN MORE