Immigration Arrests Have Risen 39% Under Trump, Administration Says
Nathan Howard
President elected on campaign promising tougher enforcement

With border wall unfunded, Trump promotes action elsewhere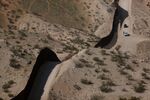 Immigration arrests have risen 39 percent since President Donald Trump took office promising a tougher stance on undocumented immigrants, the administration announced Wednesday.
Thomas Homan, acting director of U.S. Immigration and Customs Enforcement, credited priorities set by Trump for the rise in immigration arrests. Trump has "allowed my officers to do what they do best: uphold the integrity of our borders and our immigration system by enforcing the laws as they were written."
From Jan. 22 to June 24, the agency arrested more than 65,700 immigrants, a 39 percent increase from the same period in the prior year, according to enforcement data Homan released Wednesday at a White House press briefing. Trump was inaugurated Jan. 20.
Homan said 73 percent of immigrants arrested were convicted criminals. The prior year 85 percent of those arrested were criminals, the data the White House released showed.
"ICE prioritizes those that are a threat to national security and public safety," Homan said "But prioritization doesn't mean others that violated our laws are off the table and should be ignored."
A crackdown on illegal immigration was a central theme of Trump's presidential campaign, yet as president he has so far been frustrated on his attempts to deliver on a signature promise to build a wall along the nation's southern border to keep out unauthorized immigrants. Congress hasn't yet appropriated any money to pay for a border wall.
The arrest figures allowed the administration to promote other tangible results as it sought to focus attention on two immigration measures in U.S. House. Trump also met with family members of "immigration victims" whose relatives had been killed or injured by undocumented immigrants who committed crimes.
The House is scheduled to vote Thursday on legislation that would cut off some federal funding for state and local governments that have "sanctuary" policies preventing their personnel from cooperating with immigration officers. The other measure would increase criminal penalties for people who illegally re-enter the U.S. after being deported or convicted of certain felonies.
Before it's here, it's on the Bloomberg Terminal.
LEARN MORE