Biggest Brazil Steelmaker Ready to Benefit From Trump Pump
By and
Gerdau can produce more steel if U.S. demand picks up: CEO

Company upbeat on North America as Brazil goes 'sideways'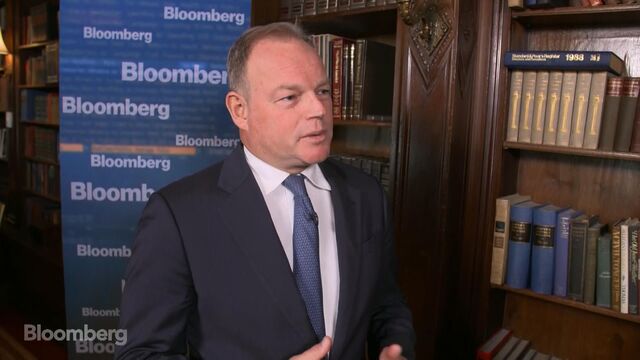 Brazilian steelmaker Gerdau SA is well positioned to increase output at its North America plants if the Trump administration's policies drive U.S. demand growth, Chief Executive Officer Andre Gerdau Johannpeter said.
The CEO applauded President Donald Trump's efforts to crack down on unfair trade, describing a so-called 232 probe into national-security risks posed by steel imports as "a very good initiative." He said he's still optimistic that Trump will be able to push through infrastructure plans, even if it takes longer than first thought, and is confident Gerdau can handle any increased demand.
"Today we're running at around 65 to 70 percent capacity utilization so we have a lot of room to supply the market," Gerdau Johannpeter said in a Bloomberg Television interview on Wednesday. "So it's not a concern."
Trump first started touting rebuilding U.S. infrastructure when he was on the campaign trail, saying he would would put a $1 trillion package in motion. Earlier this month, the president promoted a plan to use $200 billion in federal funds to leverage investment in infrastructure that would then spur at least $800 billion in spending by states, municipalities and private entities.
If infrastructure spending gets the necessary legislative approval to move forward, Gerdau Johannpeter said there "would be a big jump in demand." Raw-material producers in the U.S. have seen their share prices benefit on such prospects.
While Gerdau is based in Porto Alegre, Brazil, it gets about half of its revenue from operations in North America, according to data compiled by Bloomberg. With Brazilian demand weakened by recession and an ongoing political crisis, the company is exporting more from Brazil. It expects improvements in North America this year and "sideways" Brazilian demand.
As a North American producer, Gerdau is looking forward to the benefits of the Section 232 investigation and measures that may follow to fight unfair trade, the CEO said from New York where the company delivered a presentation to investors.
'Somewhat Confident'
"Management is somewhat confident of a marginal recovery in the U.S. this year, but expects more tangible Trump-related benefits to be longer term," BTG Pactual analysts Leonardo Correa and Caio Ribeiro wrote in a note to clients on Wednesday after attending the investor presentation. "We continue seeing the stock as undervalued."
Gerdau shares have rallied 14 percent in the past eight days, reducing a year-to-date decline to 4.9 percent.
Nucor Corp., the biggest U.S. steelmaker, said on Tuesday that it's also ready to meet the needs of U.S. industry in terms of quantity and quality if further restrictions are imposed on foreign shipments.
Nucor CEO John Ferriola said he's "encouraged" by Trump's approach to the steel industry and expects to hear from the Department of Commerce regarding Section 232 "any day now." U.S. steelmakers rallied last week after Secretary Wilbur Ross confirmed that Trump intended to take "bold action" to address national-security risks presented by imports.
Before it's here, it's on the Bloomberg Terminal.
LEARN MORE