politics
Dutch Edge Closer to New Coalition as Zalm Named to Lead Talks
By
Four-party government would have slimmest possible majority

Ex-finance minister, ABN Amro chairman replaces Tjeenk Willink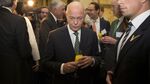 The Netherlands took a step closer to a new coalition government after more than three months of talks as lawmakers named former Finance Minister Gerrit Zalm to oversee a round of formal discussions.
Zalm, also a former chief executive officer of ABN Amro Group NV, will lead negotiations between Prime Minister Mark Rutte's Liberals, the Christian Democrats, the progressive centrist D66 party and the smaller Christian Union. The four parties together have the smallest possible majority in the Dutch lower house of parliament in The Hague with 76 out of the 150 seats. Zalm is the third politician since the inconclusive March 15 election to take on the task of overseeing the coalition talks.
The combination is the only remaining option to establish a government with a parliamentary majority, with all other possibilities blocked by one or more parties. The vote left the Dutch political landscape fragmented, with 13 parties in parliament and most of them refusing to contemplate any alliance involving Geert Wilders's anti-Islam Freedom Party, which took the second largest number of seats.
Previous attempts to form a majority government made up of the Liberals, the Christian Democrats, D66 and the Greens collapsed over immigration policy. The leader of the Greens, Jesse Klaver, said he couldn't sign off on a proposal to allow possible future deals to return migrants to North African countries.
Dinner Date
A push to bring in the Christian Union, one of two religious-based parties, in place of the Greens was initially called "undesirable" by D66 leader Alexander Pechtold. But in the face of decreasing options to form a government, Pechtold ironed out differences with CU party chief Gert-Jan Segers over dinner last week in an Indonesian restaurant in The Hague.
Veteran Labor Party politician Herman Tjeenk Willink, who was the lead negotiator before Zalm, a Liberal, advised the four parties to keep the interests of the opposition in parliament in mind, given the slim majority they would have.
"You need broad support,'' Tjeenk Willink said Tuesday. "Issues such as climate and Europe can't be tackled with 76 seats."
While the coalition-forming process has already taken longer that the Dutch average of 72 days since World War II, this latest attempt is still well short of the record of 208 days set in 1977.
Before it's here, it's on the Bloomberg Terminal.
LEARN MORE