politics
Conspiracy Theories Abound After Helicopter Buzzes Caracas
By and
Police officer in chopper filmed video, had acted in film

No major reports of escalation from military, security forces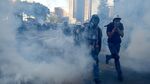 A police officer commandeers a heavily-armed helicopter, buzzes downtown Caracas, disappears; President Nicolas Maduro takes to the airwaves to denounce a "terrorist attack"; the opposition calls it a staged event by the president to justify a power grab.
Now, the day after, crisis-weary Venezuelans are trying to make sense of it all. Many, like Giofran Blanco, a 24-year-old administrative assistant, seem inclined to agree with the opposition's version of events.
"This is completely fictitious," Blanco said from his scooter as he commuted to work. "Supposedly there is a coup last night and the streets are calm today? The government is just trying to stop the pressure on the streets."
The episode came hours after Maduro, struggling to contain three months of violent street protests, stated that he was prepared to take up arms to defend the socialist movement begun by his predecessor, Hugo Chavez. The demonstrations -- fueled by anger over shortages of food and medicine and increasing repression by security forces -- have intensified as the regime pushes forward with a plan to overhaul the constitution. Key members of the socialist coalition assembled two decades ago by Chavez have begun to peel away from Maduro.
"Defections from within Chavismo may escalate ahead of the July 30 launch of the constitutional convention," Siobhan Morden, the head of Latin America fixed-income strategy at Nomura Securities International Inc. in New York, wrote in an emailed note. "Our base case scenario remains for regime change on this unstable equilibrium. However, it's difficult to quantify whether it's within six hours or six months."
'Freedom'
The incident began at about 7 p.m. Tuesday when a police helicopter draped with a banner that read "freedom" circled low over downtown Caracas, where the supreme court, ministries and presidential palace lie. Gunfire and explosions were heard in the area, but there were no injuries, according to a news release from the court.

In a late-night address, Venezuela's information minister identified the attacker as Oscar Perez, a member of the country's elite police force and investigation unit. Little is known about Perez, who the government said is still at large. In a video posted on his Instagram account, the pilot, flanked by masked men holding rifles, declares insurrectionists "warriors of god" seeking to end a corrupt government that has trampled citizens' rights.
Like many things in Venezuela, it's hard to nail down facts and many wondered whether the whole incident had been staged, as local media highlighted the acting experience of the pilot. Other posts of Perez's Instagram account feature him working crimes, scuba diving and riding horses, and indicate that he acted in a 2015 Venezuelan film, "Suspended Death."
Almost a day after the bizarre incident, the government announced it found the blue police chopper miles from the capital, near Venezuela's northern coast. Perez, however, remains at large.

Maduro blamed the supposed attack on his former interior minister, Miguel Rodriguez Torres, and asked the opposition to denounce the incident by buying into his version of events.
But the lack of solid evidence that grenades had been tossed and gunshots fired as suggested by the government added to doubts over what exactly occurred about 7 p.m. Tuesday. The quick attempt to link the events to Rodriguez Torres and a simultaneous supreme court ruling to weaken Public Prosecutor Luisa Ortega Diaz, the highest-profile government official critical of the administration, were other signs that the incident may not have been pure coincidence. The court subsequently barred Ortega Diaz from leaving the country and froze her bank accounts as it set the date of July 4 for a hearing on whether she should face trial.
Read more: QuickTake Q&A on why Venezuela may get its 27th constitution
"This is the kind of armed escalation I have been warning about," Maduro said. "I call on the opposition alliance to denounce this incident."
Rodriguez Torres and Ortega have both criticized the constitutional rewrite for what they say is an attempt to trample on the legacy of Chavez, who died from cancer in 2013. In a speech Wednesday, Ortega Diaz went beyond simply challenging the official version of the helicopter incident and accused Maduro of inciting violence, saying the government was "desperate" to create conditions for a military coup.
Some observers warn armed conflict could be on the way.
"The helicopter event is rather confusing, but it reflects chaos, anarchy and division within the government," said Hernan Castillo, military analyst and historian at the Simon Bolivar University. "Venezuela is at the brink of a low civil war. Emotional and political grounds for it are set."
The escalation of violence in the OPEC nation has led to almost 80 deaths. In the past 24 hours, authorities arrested more than 200 people in the city of Maracay west of Caracas after violent looting late Monday, and national guardsmen clashed with opposition lawmakers at the National Assembly on Tuesday.
Information Minister Ernesto Villegas denounced Tuesday's "terrorist attacks" in a late night address, assuring the events wouldn't derail the president's plans to call a constituent assembly next month to rewrite the government's charter.
The six-year term of the Venezuelan leader, who eked out a victory following Chavez's death, ends in 2019 with elections expected at the end of next year. While government officials have said they expect the vote to proceed, the opposition is skeptical of getting fair treatment in a democratic process.
Maduro made clear he won't step down quietly.
"We would never surrender and what we could not achieve with votes we would do with arms, we would liberate our country with arms," he said.
— With assistance by Fabiola Zerpa, and Jose Orozco
(
Updates to add court barring public prosecutor from leaving country, freezing her assets in 11th paragraph.
)
Before it's here, it's on the Bloomberg Terminal.
LEARN MORE