markets
Banks Unleash Surprisingly Big Payouts After Fed's Stress Tests
By , , and
Capital One is only bank ordered to resubmit its capital plan

Shares of the biggest lenders climb in early trading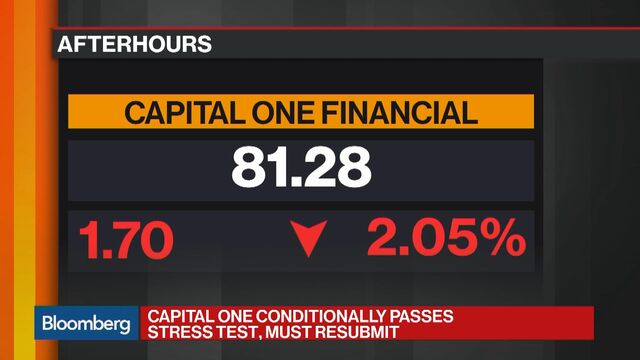 The Federal Reserve told big banks they have more than enough capital, and they promptly announced a windfall for shareholders.
JPMorgan Chase & Co., Citigroup Inc. and Bank of America Corp. led U.S. firms in unveiling plans to boost dividends and stock buybacks more than analysts had projected, after every lender passed annual stress tests for the first time since the Fed began the reviews in the wake of the 2008 financial crisis. Shares across the industry rallied in early trading Thursday.
Still, Capital One Financial Corp. slipped after it was the lone bank to stumble through the exam Wednesday, garnering conditional approval to make payouts while it fixes "material weaknesses" in planning.

Lofty payouts made banks hot stocks until the financial crisis exposed many of them as too thinly capitalized. The companies unveiled plans Wednesday showing how they're trying to generate investor interest -- even as many still struggle to meet profitability targets and a few languish below book value.
"The sun is setting on the post-crisis balance sheet rehab," Pri de Silva, an analyst at CreditSights Inc., said in a note. "These massive payouts and an improved earnings outlook reflecting higher rates should alleviate calls for breaking up the banks."
The Fed's projections also show regulators may have more leeway to ease rules after years of forcing companies to curtail risk-taking and beef up internal controls --- demands that eroded revenue and fueled costs.
The industry is counting on President Donald Trump to soften that oversight by appointing more business-friendly board members to the Fed, shifting the balance of power from regulators to shareholders. Earlier this month, Treasury Secretary Steven Mnuchin recommended that stress tests be performed every other year and that banks maintaining a sufficiently high level of capital be exempt from exams.
"The highly positive report card puts more wind at the backs of the Trump administration and others who want to soften Dodd-Frank-era regulations," Ian Katz, an analyst at Capital Alpha Partners, said in a note Wednesday, referring to a 2010 rewrite of industry rules. "That's an additional bit of longer-term good news for banks."

JPMorgan, the nation's largest lender, said it's boosting its quarterly dividend 12 percent and may increase share repurchases to $19.4 billion over the next 12 months -- roughly 90 percent more than in the prior year. Citigroup plans to double its dividend and may purchase up to $15.6 billion. Bank of America hiked its dividend 60 percent and will buy back up to $12 billion.
Shares of all three rose at least 2 percent in early trading in New York. They, along with Wells Fargo & Co. and Morgan Stanley, may collectively buy as much as $64 billion in stock. Goldman Sachs Group Inc. has yet to make an announcement.
Large banks passed "with flying colors," said John McDonald, an analyst at Sanford C. Bernstein & Co. "The banks performed well both quantitatively and qualitatively, reiterating the opportunity the group has to drive capital return higher over the next few years."
Generally, banks are expected to distribute close to 100 percent of their earnings over the next four quarters, substantially more than a year earlier, according to a senior Fed official. On average, analysts had estimated that the 34 firms in this year's tests would pay out about 86 percent, according to figures compiled by Bloomberg.

Capital One's stumble was a surprise. Some analysts had opined that Wells Fargo might not pass after a retail account scandal exposed control lapses. And Morgan Stanley, which last year had to resubmit a plan for managing capital, trailed the rest of Wall Street on one of the main metrics during an initial round of testing last week.
Firms focusing on credit cards struggled most. The Fed said last week that the "recent uptick in delinquency rates in credit card portfolios" was among stress points for banks in the tests.
Capital One and American Express Co. were the only companies this year to revise their capital plans after the exams' first round. AmEx's total risk-based capital was projected to fall below the required 8 percent minimum in the plan it originally submitted.
The Fed ordered Capital One to shore up risk oversight, including how it estimates the theoretical potential for losses "in one of its most material businesses," according to a statement from the central bank that didn't specify which business. The firm draws the biggest share of its revenue from cards.
While Capital One can proceed with proposed payouts, the Fed said it might yet restrict the distributions if a resubmitted plan doesn't adequately address problems. Gatekeepers within the firm failed to discover the issues themselves, the Fed noted.
"The firm's internal-controls functions, including independent risk management, did not identify these material weaknesses," the regulator said. "Therefore, senior management was not in a position to provide the firm's board of directors with a reliable assessment upon which to determine the reasonableness of the capital plan."

Capital One's board cut the coming year's stock-repurchase program to $1.85 billion. The firm expects to maintain its quarterly dividend of 40 cents a share, according to a statement from the McLean, Virginia-based company.
The lender is "fully committed to addressing the Federal Reserve's concerns with our capital planning process in a timely manner," Chief Executive Officer Richard Fairbank said in the statement. The company plans to update or affirm its guidance for full-year profits when it announces second-quarter earnings next month.
The annual review is a cornerstone of the Fed's strategy to prevent a repeat of the financial crisis and taxpayer-funded bailouts. In an initial round last week, firms showed they have enough capital to handle hypothetical turmoil, such as surging unemployment, a sharp drop in housing prices or an extended stock slump. Wednesday's results marked this year's final round, determining whether they can proceed with payouts.
This time, authorities dropped one of the toughest components of the tests, the so-called qualitative review, for all but the biggest banks.

Deutsche Bank AG's New York-based trust bank and Banco Santander SA's U.S. business, which had both failed two years in a row on qualitative standards, passed after being exempted from that review.
All of Frankfurt-based Deutsche Bank's operations in the U.S. will be tested next year after the Fed required the largest foreign lenders to consolidate assets in the country under an umbrella structure starting last July. That will bring the German firm's broker-dealer in the country under scrutiny for the first time in the tests.
— With assistance by Jesse Hamilton, and Felice Maranz
(
Updates with reaction starting in fifth paragraph.
)
Before it's here, it's on the Bloomberg Terminal.
LEARN MORE