technology
Binary Capital's Jonathan Teo Offers to Resign From Venture Firm
By and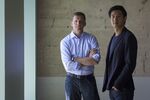 Binary Capital LLC's Jonathan Teo told investors he's willing to step down from the venture capital firm he helped start in the wake of revelations that his co-founder Justin Caldbeck made unwelcome sexual advances toward female startup founders.
Teo's proposed resignation followed a vote by investors this week to suspend operations of both the firm's funds. Caldbeck resigned on Sunday after apologizing for his behavior.
"If the investor groups believe that my removal serves the best interests of the investors, I will respectfully resign," Teo wrote to the investors Wednesday. "Throughout this entire process, my singular goal has been to act in the best interests of our investors, portfolio companies, employees and the company I co-founded three years ago."
In the letter, obtained by Bloomberg, Teo also said that "media coverage and continued questions regarding my behavior that has occurred these past few days has been a distraction" that has created a "difficult situation for you all."
Investors in Binary, known as limited partners, decided earlier this week to effectively shutter the firm's most recent fund, according to a person with knowledge of the matter who asked not to be identified discussing private matters. On Wednesday, investors decided to suspend its first fund as well. Suspension means a fund can make no new investments.
Binary had raised about $175 million for the second fund last year, but very little of that money had been invested, this person said. The first fund of $125 million, raised in 2014, holds investments such as Dia & Co., a clothing retailer for plus-sized women, and Havenly, an interior design service.
Teo's offer to resign is probably a relief to investors, whether or not they take him up on it, said Barry Kramer, a lawyer at Fenwick & West LLP, with no involvement in the case.
"He's signaling that he's going to be helpful," Kramer said. If the investors decide they do want him to leave, "it can be done quickly and efficiently without any dispute."
Teo said earlier this week that he was aware of "rumors" about Caldbeck's behavior in the years before he joined Binary but he trusted Caldbeck's reassurances that "he was turning over a new leaf."
"I made a big mistake in that from a professional context," Teo wrote in a June 26 Facebook post. "The corporate world is unforgiving for judgment errors such as this." He also said that he had been "misled by someone whom I considered a trusted friend."
The law firm Gibson Dunn & Crutcher LLP is investigating the matter, he said earlier.
Investors may decide they want him to stick around to manage the existing investments, rather than hire an outsider, Kramer said. If investors move to sell off the startup stakes, Teo could provide advice on fair prices for the investments.
Caldbeck apologized on Friday and resigned late Sunday after a report by The Information detailing his sexual advances to women looking to raise money. His actions, over several years, shed light on the imbalanced power dynamics between investors and the startup founders who seek funding from them. This is the latest example of scandal, harassment and gender inequality in Silicon Valley, and it sparked calls for a technology industry code of conduct for venture capitalists and entrepreneurs.
Binary's fate has hung in the balance since Caldbeck stepped down and Matt Mazzeo, a venture capitalist who joined San Francisco-based Binary as a partner in recent weeks, also resigned.
Recode reported on Tuesday that Stitch Fix Inc.'s Chief Executive Officer Katrina Lake, had requested Caldbeck's removal from her board after he led a 2013 investment in Stitch Fix on behalf of Lightspeed Ventures, the VC firm where he worked at the time.
Lake issued the following statement late Tuesday: "Female entrepreneurs are a critical part of the fabric of Silicon Valley. It's important to expose the type of behavior that's been reported in the last few weeks, so the community can recognize and address these problems. I'm encouraged by the discussions that have been taking place and I intend to play a part in making positive changes in our industry."
(
Updates with investor suspension of funds in first paragraph.
)
Before it's here, it's on the Bloomberg Terminal.
LEARN MORE