Are You Sure You're Working Enough?
Logging long hours is either a recipe for burnout or the only way to get ahead, depending on who you ask.
By and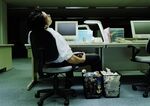 Earlier this month, venture capitalist Keith Rabois set off a Silicon Valley firestorm about what it takes to succeed. When another tech investor wrote on Twitter that working on the weekends and burning out isn't cool—and doesn't work—Rabois fired back. "Totally false," he said. Rabois cited icons like Elon Musk, Mark Zuckerberg and Bill Belichick as proof that dogged dedication (usually measured by long hours) was the only way to reach the top of your field.
Lots of people objected to this assessment, for reasons ranging from VC privilege (of course Rabois wants to wring every ounce of productivity out of the founders who make him money) to its gendered implications (women tend to take a greater share of family responsibilities than men–does that mean they can't do great work?). This week on Game Plan, Rebecca and Francesca talk to one of Keith's critics, startup founder and engineer Sara Mauskopf, about why she thinks flexible hours and a healthy work-life balance can actually make your product better. Mauskopf founded Winnie, a parenting app, with those values in mind. Then we check in with Keith to see whether he has revised his opinion now that the avalanche of takes has settled.
Quotes from this Article
Before it's here, it's on the Bloomberg Terminal.
LEARN MORE