quicktake
Why the EU Slapped Google Over Product Searches
By and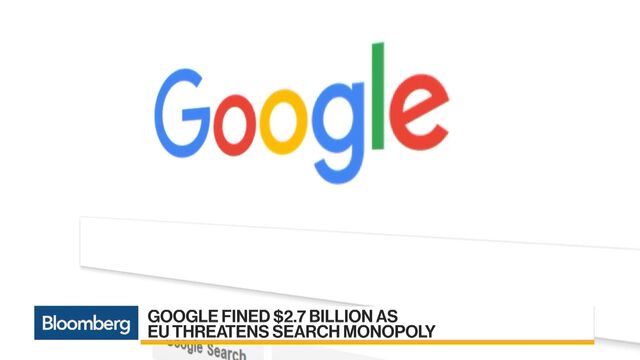 European regulators have hit the "send" button on a record 2.4 billion-euro ($2.7 billion) antitrust fine for Google. Margrethe Vestager, the European Union's competition commissioner, says Google abused its dominant market position by putting its own shopping service at the top of search results -- some of the best real estate on the internet. The ruling goes to the very nature of Google's business. (For analysis, see our TOPLive blog.)
1. Is this a big deal for Google?
It's fashionable to brush off any fine to a large, extremely profitable company. Especially a company that -- at the parent level -- has more than $90 billion in spare cash. But it's not really about the initial fine, as big as it is. The EU has given Google 90 days to stop its practices. If the company doesn't comply, it risks fines of up to 5 percent of parent Alphabet Inc.'s daily revenue. Essentially, Google has to change how its search function works. That's like telling a carmaker to change the way its cars drive. Given how lucrative promoting its comparison shopping has been for Google, that's a blow.

2. What exactly does the EU say Google did wrong?
Google uses a bunch of algorithms to find what you search for. The EU has accused Google of tailoring algorithms for product-related queries -- searching for "dress shoes" for example -- to promote its own comparison shopping service. This has had a big effect. Since it started changing its search function, traffic to Google's shopping service increased 45-fold in the U.K., says the EU. The losers have been rival comparison sites, which are still subject to Google's normal search algorithms. This means they fall a long way down the rankings, and more importantly, off the first page. Vestager repeatedly made it clear in her ruling that Google is a "dominant company," a special classification that brings tighter scrutiny.
3. What happens now?
Google has said it's reviewing the EU decision and is weighing an appeal. In normal circumstances, appeals are used to kick the can down the road, in some cases allowing business to continue as normal while lawyers carry on being lawyers. A penalty levied against Intel Corp. eight years ago is still waiting for the outcome of the court appeal, for example. However in this case, the EU has essentially issued a cease-and-desist order against Google. Even if Google appeals, it will have to change its business practices within 90 days, and give evidence that it's doing so within 60 days.
4. Is there more trouble to come for Google?
Yes. Vestager also said that Google's rivals can now attempt to claim compensation in national courts. Smaller rivals such as Foundem and Kelkoo were the first to sue in Britain, but larger companies such as German publisher Axel Springer SE have since joined the attack. Oh, and let's not forget EU is perusing two other antitrust cases with Google, examining its Android software for mobile phones and its Adsense online advertising service. Android contracts may unfairly force tablet and phone manufacturers to add Google's search and web browsers on devices, regulators say. Google says the case threatens its strategy of not charging for Android, which has helped lower the cost of devices.
5. How did the EU get to that 2.4 billion euro figure, anyway?
It's complicated. The EU has set out guidelines in how it comes up with a fine. The starting point is that the "final amount of the fine shall not, in any event, exceed 10 percent of the total turnover in the preceding business year." Which in Alphabet's case is $90.27 billion. From here, the fine is based on "30% of the company's annual sales to which the infringement relates" -- in this case Google's revenue from its comparison shopping service in the 13 European countries involved in the probe -- multiplied by the number of years of participation in the infringement. In the case of the U.K. and Germany, this started in 2008. And don't forget an "entry fee" fine that is applied to certain types of antitrust cases, equal to 15 to 25 percent of the annual relevant sales. The EU didn't break down exactly how it got to the figure, but it tops the previous record, the 1.06 billion euro penalty for Intel.
6. How did we get here?
The EU started probing complaints from smaller search services including U.K. shopping site Foundem in 2010. Two years in, regulators called on Google to make changes to shut the investigation down without a fine. Travel websites, newspaper publishers and others pushed back, calling for harsher action from the EU. Their opposition to Google's additional offers forced the EU to abandon a possible settlement in late 2014.
7. Is the EU unfairly targeting U.S. tech companies?
The EU says it's targeting what companies do, not the flag they fly under, and that complaints about Google and others have also come from other U.S. firms. But it's true that Silicon Valley has spawned a series of innovative and disruptive tech titans and some of these have come in for antitrust scrutiny in Europe, including Amazon.com Inc. and Apple Inc. for e-book restrictions and tax arrangements.
The Reference Shelf
For more on Google, check out the Decrypted podcast:
Before it's here, it's on the Bloomberg Terminal.
LEARN MORE