Trump a Mostly Invisible President at Koch Political Summit
By
New U.S. leader gets little attention during on-stage talks

Powerful network declined to back Trump in 2016 election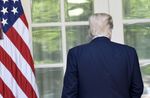 In America's kitchens, taverns and workplaces, President Donald Trump is a frequent topic of conversation. At a weekend gathering of donors to the Koch political network, his name was rarely mentioned, at least in front of the media.
Whether there's palpable concern about his young presidency among the more than 400 conservative donors gathered through Monday at a luxury resort in the Rocky Mountain foothills was hard to judge. Reporters were prohibited from approaching them, except during a 60-minute window Sunday evening.
But the network's founder, billionaire industrialist Charles Koch, made no mention of Trump as he welcomed donors to the three-day conference on Saturday evening.
Three Republican governors from states that Trump won -- Texas, Kentucky and Missouri -- also made no major mention of their party's standard-bearer during an hour-long panel on Saturday about conservative causes at the state level.
Even Senator Ben Sasse of Nebraska, who's gained national prominence as a Trump critic, didn't say anything about the president during a 45-minute appearance on Sunday. A moderator didn't ask him a single question that would elicit comments on a White House that's been engulfed in controversy.
The Koch organization didn't support Trump's presidential campaign, and network officials say privately there's a range of likes and dislikes for him among the group's membership.
Pence Meeting
Vice President Mike Pence met privately with Charles Koch before the summit convened, but didn't appear before the donors, including about 140 attending for the first time.
It's hard to imagine the donors not responding more favorably during the weekend if the Republican president had been someone deeply liked and supported by their dollars, such as Senator Ted Cruz of Texas or Governor Scott Walker of Wisconsin, both of whom ran for the 2016 Republican nomination, or even Pence himself, a former Indiana governor.
Ken Goldstein, a University of San Francisco political science professor, said the differences between Trump and the Koch network are likely as much philosophical as political. "At some level, they probably find Trump objectionable because he's not about ideas and they are," he said.
From a practical standpoint, Goldstein said it's a lot easier to take over an existing party than to start a new one.
"The most powerful organizational figures in the Republican Party -- the Koch brothers network-- aren't really Republicans and really have no loyalty to the Republican Party," he said. "The most powerful leader in the Republican Party, President Donald Trump, has no real loyalty to the Republican Party."
Ideas Versus Politics
James Davis, spokesman for the Koch political network, attributed the general lack of commentary about Trump to the group's conferences traditionally being more about ideas than politics. Still, the gathering wasn't short of politicians: four governors, six U.S. senators and five House members attended.
Besides not supporting Trump in 2016, the Koch network has also criticized administration positions including the proposed travel ban on some refugees and immigrants. Freedom Partners, a group partially funded by the Koch brothers, has also warned that Trump's call for a $1 trillion infrastructure package could become a "spending boondoggle."
Trump's tendency to target individual companies for criticism, as well as his talk of new tariffs, also clash with the network's free-market views.
Despite any fears among corporate leaders that publicly challenging Trump can draw a harmful reprisal, Charles Koch argued that engaging in political fights can actually be good for business. "The more people see us standing on principle, the more they want to do business with me," he said.
Few Policy Victories
The network, which has more than 700 donors who give a minimum of $100,000 a year, has convened the seminar twice annually since 2003.
Under different circumstances, the donors at the five-star Broadmoor resort may have been celebrating policy victories from Republican control of the White House and both chambers of Congress. Instead, Trump is embroiled in multiple investigations into Russia's meddling in the 2016 presidential election.
Other than the appointment of Justice Neil Gorsuch to the Supreme Court, the network has little to show for its investments in recent years. Obamacare remains the law, there's been only talk of overhauling the U.S. tax system, and there's a possibility that trade under Trump will become more restrictive.
With little advancement in Washington on conservative policy goals, several panels at the gathering focused instead on gains made at the state level.
'A-Plus' Efforts
Koch network officials did praise Trump for his judicial appointments and said his five-month-old administration deserves an "A-plus" for efforts to reduce regulations.
In a Sunday afternoon session, Brian Hooks, president of the Charles Koch Foundation and a co-chair of the weekend conference, said the network would work hard with the president to pass his tax plan.
"Anything that gets us close to what this president has proposed in his tax plan would be a be a rock-solid gain for this country, and so this network is hard at work helping him to pass it right now," Hooks said.
"This network is supporting a slew of other policies that this president and Congress have put forward, from massive regulatory reform to education reform to the overhaul of the Department of Veterans Affairs, which has implications for the entire federal bureaucracy," he said.
If progress on advancing conservative policy goals at the federal level hasn't picked up by the next time the group meets in January, Trump could become a bigger topic of the conversation.
Before it's here, it's on the Bloomberg Terminal.
LEARN MORE