Shkreli's Jury Pool Calls Him 'an Evil Man' and 'a Snake'
By and
Judge gathers panel of 130 prosecutive jurors for fraud case

At least 12 potential jurors excused for bias against Shkreli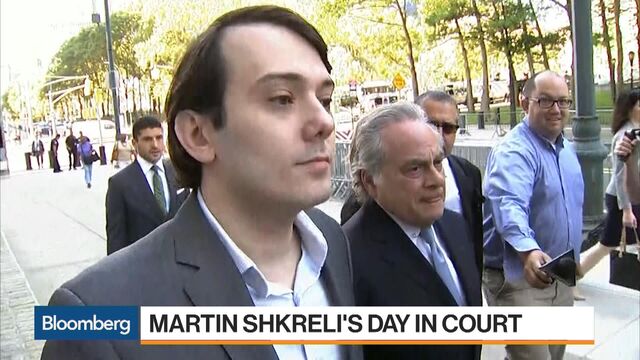 Martin Shkreli is infamous. That's making it tough to find a jury of 12 for his criminal fraud trial in Brooklyn, where he's even being blamed for other pharma executives' bad behavior, such as raising the price of the life-saving EpiPen.
The first potential juror interviewed Monday, a young woman in her 30s, called Shkreli "an evil man." Another woman said she knew he'd been labeled "the most hated man in America," while a third woman declared, "I looked right at him and, in my head, I said 'that's a snake."' They were among at least a dozen people dismissed from jury service because of their strong opinions about Shkreli and at least three potential jurors blamed him for a spike in the price of the EpiPen.
Shkreli is well known across social media for broadcasting much of his life online and is notorious for having raised the price of a potentially life-saving drug by 5,000 percent. But the case against Shkreli has nothing to do with that. Shkreli, the 34-year-old founder of Retrophin Inc. and Turing Pharmaceuticals AG, is accused of defrauding investors in two hedge funds and using $11 million of Retrophin assets to pay them off.
Still, his notoriety slowed the pace of the first day of jury selection in federal court in downtown Brooklyn. U.S. District Judge Kiyo Matsumoto said last week that she wanted lawyers to be ready to deliver opening arguments Monday. That didn't happen, and the judge directed lawyers to return to court Tuesday to continue the selection process. At least 130 prospective jurors were dismissed, while at least 34 people were directed to return to court. The judge said an additional 100 people would be screened on Tuesday.
When people indicated they knew about Shkreli or his case, Matsumoto, along with the lawyers, questioned them outside the hearing of others in the courtroom. Shkreli, tieless, in a dress shirt and light grey suit, sat alone at the defense table, occasionally playing with his hair and chewing on a pen, while the judge considered the would-be jurors' potential biases.
Several blamed him for the skyrocketing price of drugs in general. One potential juror said his children were taking drugs made by Shkreli's companies and called him "the price gouger." Another said he had many friends with HIV and AIDS who were affected by the drug price hikes.
A man in his 70s openly declared his feelings about Shkreli, telling the judge, "from everything I have seen on the news, everything I've read, I believe the defendant is the face of corporate greed in America."
One woman, who pretended to wring Shkreli's neck, said, "I honestly don't think I could be impartial." Referring to Shkreli's decision to hike the price of a drug by 5,000 percent, she asked "Who does that?" She then answered her own question: "A person who puts profit over everything else."
At least three potential jurors incorrectly blamed Shkreli for the price spike in the EpiPen, the auto-injector device used to treat allergic emergencies, a 400 percent increase in seven years. That could be an innocent mistake since Shkreli, who appeared before Congress to testify about drug pricing, made numerous media appearances in 2016 discussing the rise in drug prices, including that of the EpiPen.
At least twice, Shkreli's lawyer Benjamin Brafman cut off potential jurors from venting about his client, saying it was one of the reasons he'd fought to keep the press from attending the sidebar conferences. "I am anticipating an article, a piece, that will further complicate the already complicated job of defending someone so many people feel strongly about," he said.
Social Media
At least two prospective jurors who voiced distrust of authority and the government were excused from service. One woman said that people who invest in the stock market know that it's a "scam," and said she would "never convict" Shkreli.
Shkreli also faces a challenge on how jurors view him for his social media antics. In the weeks leading up to his trial, he spent hours on YouTube live-streaming himself petting his cat, combing his hair and playing chess. He has amassed more than 80,000 followers on Facebook and has been barred from Twitter for harassing a female journalist.
"For jurors who have no exposure to social media, those factors are going to become more like evidence to them," Philip Anthony, chief executive officer of trial-consulting firm DecisionQuest, said in an interview. Those with a strong presence on social media are bound to minimize or dismiss those postings because they'll discount the importance of such things, he said.
The case is U.S. v. Shkreli, 15-cr-00637, U.S. District Court, Eastern District of New York (Brooklyn).
Before it's here, it's on the Bloomberg Terminal.
LEARN MORE