markets
Rio Backs Yancoal's Improved Coal Mines Bid
By and
Glencore, Yancoal in a bidding war for Australian coal mines

Yancoal boosted offer on Monday, adding royalty payments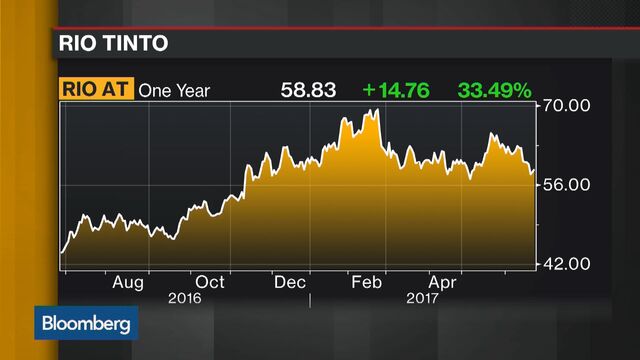 Rio Tinto Group told shareholders to back Yancoal Australia Ltd. as the buyer of its Australian coal mines after the China-backed company added extra incentives to fend off a last-minute challenge by Glencore Plc.
Yancoal offered $240 million in royalty payments and an increased break fee to its previous $2.45 billion cash offer for the Hunter Valley coal mines, according to a statement from Rio on Monday. The new offer is more attractive than Glencore's bid because there's a better chance of speedy completion, Rio said.
"The revised offer from Yancoal of $2.69 billion offers compelling value to our shareholders for our Australian thermal coal assets," Rio's Chief Executive Officer Jean-Sebastien Jacques said in a statement. "This sale process has been in progress for a long period of time and we believe it is in the best interests of our shareholders to take the greater certainty of Yancoal's strong proposal."
The higher bid from Yancoal caps the latest round of a bidding war between Yancoal, a unit of China's state-run Yanzhou Coal Mining Co., and Glencore for the prized coal mines. Glencore strengthened its offer Friday to nearly $2.68 billion in cash plus a coal-price linked royalty, as well as promises of a hefty deposit and compensation for regulatory delays.
Rio shareholders are scheduled to vote on the deal later this week.

Success for Yancoal would make it the biggest coal-only producer in Australia and give it a stake in Port Waratah Coal Services Ltd., the owner of two terminals at the port of Newcastle, the country's main conduit for thermal coal. The prize for Glencore is a potential $1 billion of synergies through combining output and marketing with its adjacent operations, according to RBC Capital Markets.
Peter Grauer, the chairman of Bloomberg LP, is a senior independent non-executive director at Glencore.
(
Updates with background on bidding war starting in second paragraph.
)
Before it's here, it's on the Bloomberg Terminal.
LEARN MORE