Padoan Confident Veneto, Paschi Last Lenders Needing State Aid
By and
Bank deal is 'not a bailout,' finance chief says in interview

Intesa's role in deal different from Santander with Popular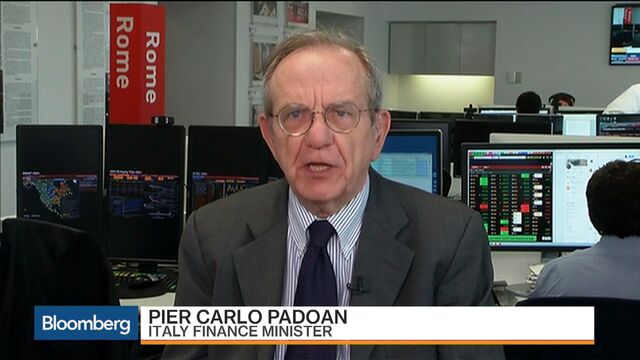 No other Italian banks will need state aid after the government orchestrated a last-minute rescue of two failed Veneto lenders over the weekend, Finance Minister Pier Carlo Padoan said.
The minister, speaking in an interview with Bloomberg Television's Mark Barton, rejected criticism that the 17 billion-euro ($19 billion) commitment was exactly the sort of state intervention that Europe's post-financial crisis banking rules were created to prevent.
"It's not a bailout, everything was done by the rules and it's a national liquidation of two banks declared failing or likely to fail," he said. "We have strengthened the European integration and strengthened the banking union and we are working to make it even stronger."
He added that the country's banking system is now at a "turning point in the progressive elimination of non-performing loans which is already under way."
The intervention in Banca Popolare di Vicenza and Veneto Banca SpA includes state support for Intesa Sanpaolo SpA after it purchased the best assets from the lenders for a token 1 euro. The two failed institutions will be split into good and bad banks. Milan-based Intesa can initially tap about 5.2 billion euros ($5.8 billion) to take on the assets without hurting its capital ratio.
An additional 12 billion euros will be available to cover potential further losses with the Italian Treasury estimating the fair value of the lenders' losses at about 400 million euros. That amount is already included in the funds made available to Intesa.
Bad Loans
Italy is struggling to fix a crisis legacy of about 360 billion euros of soured loans in its banks' balance sheets that is holding back credit and weighing on the country's weak recovery. The government approved a law last year to plow as much as 20 billion euros into troubled lenders as part of its efforts to revamp its banking industry and break a slump in lending.
Padoan said the difference between Intesa's purchase and Santander SA's takeover of failing Banco Popular Espanol SA earlier this month is the buyer. Santander plans to raise 7 billion euros to bolster Popular Espanol's capital in a deal that didn't involve any state money. In the Intesa deal, the state agreed to protect the bank's capital levels.
Italy ended months of talks with regulators turning to domestic insolvency law to liquidate two small banks in northern Veneto region, making it easier to use public money to lubricate the process. 
'Perfectly Viable'
The government is still in talks with European authorities to save Banca Monte dei Paschi di Siena SpA, the world's oldest bank, through a so-called precautionary recapitalization.
Monte Paschi "is a perfectly viable bank, which was not the case of the two Veneto banks," Padoan said. It "is a totally different machine," undergoing a precautionary recapitalization. The state will enter Paschi only as part of the recapitalization in an arrangement he hopes is "as short as possible."
Earlier in the day, Prime Minister Paolo Gentiloni said that he hopes that the deal for the Veneto banks will allow the "state to recover the funds in whole or in part in the coming years."
"If we don't recover it, we have already set aside money to deal with capital strengthening in critical banks, so not putting additional burden on state financing," Padoan also said.
Banca Carige SpA, the struggling Genoa-based lender, has received a number of requests for adjustments from European institutions and they are complying with the requests, "so that's good news," he said.
— With assistance by Flavia Rotondi, Alessandra Migliaccio, and Mark Barton
Before it's here, it's on the Bloomberg Terminal.
LEARN MORE