Italy Bank Deal Makes Germans Wary of Macron's Euro Agenda
By and
Deepening euro area seen more difficult after Italian bailout

German ministry: better to let unprofitable banks exit market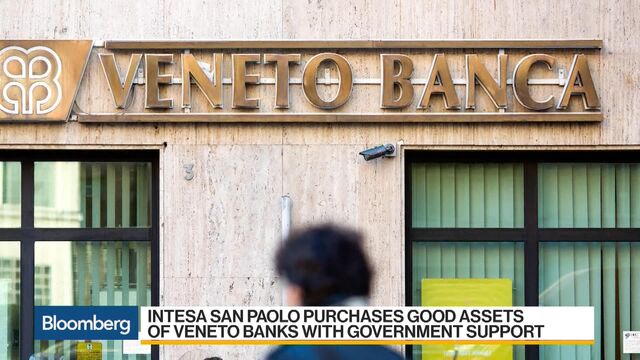 Germany sounded the alarm over Italy's latest bank bailout, saying the apparent bending of European Union rules casts doubt on efforts to further integrate the euro zone.
The government in Rome announced the country's biggest bank rescue to date on Sunday evening as it committed as much as 17 billion euros ($19 billion) to clean up two failed banks. While the European Commission approved the plan, German officials pointed to the involvement of state aid to shield senior creditors from losses as working around EU law established to deal with bank failures.
That exemption drew criticism from members of Chancellor Angela Merkel's ruling coalition, who cited the need to uphold European law without setting unhealthy precedents.
"We're in a phase where we are faced with the question of whether we can succeed at applying European law, irrespective of all the understandable domestic policy discussions," Alexander Radwan, a lawmaker from Merkel's CSU Bavarian sister party who sits on the Bundestag's finance committee, said in an interview on Monday. "Cases like these make it more difficult to think about deepening the economic and monetary union."
The growing drumbeat for closer euro-area integration following Emmanuel Macron's election in France is making some German lawmakers increasingly uneasy. Citing election results in France and the Netherlands this year that open "an opportunity for moving Europe forward," Merkel has spoken of joint projects with France and left the door open to creating a euro-area budget and a joint finance minister.
'Grave Mistake'
"This decision discredits the further completion of the banking union and moves the common deposit-guarantee scheme into the distant future," said Carsten Schneider, a deputy head of the Social Democrat caucus in Germany's lower house. "It's not acceptable that bank wind-downs under national rules offer better conditions for creditors than under the European regime."
Italy's decision is "a grave mistake," Schneider said in emailed comments to Bloomberg.
German Finance Minister Wolfgang Schaeuble's department also sounded a note of caution on the European Commission's approval of Italy's rescue of the Veneto banks.
"It's undisputed in Europe that a major goal of the new banking regulation is to protect the taxpayer," Finance Ministry spokeswoman Friederike von Tiesenhausen told reporters in Berlin on Monday. "The European Commission has the responsibility to ensure that state aid is kept to a minimum, also to prevent a de facto circumvention of settlement rules by national insolvency regimes."
— With assistance by Patrick Henry
Before it's here, it's on the Bloomberg Terminal.
LEARN MORE