markets
Draghi Defends ECB Stimulus Saying Jobs Matter Most for Equality
By and
ECB head speaks to students in Portugal before annual forum

Reiterates that central bank hasn't yet met inflation mandate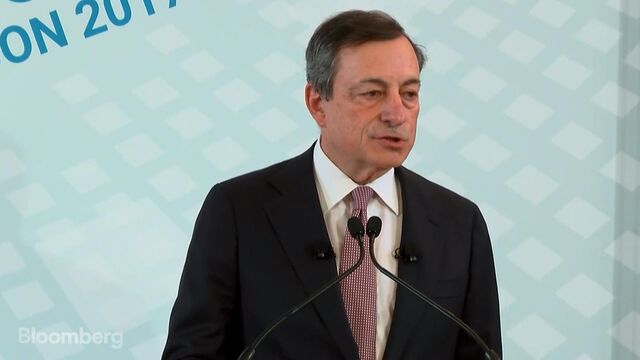 Mario Draghi took his defense of his stimulus measures to students in Portugal, where he argued that young people will benefit from the revival of euro-area growth.
Youth unemployment "is declining but it's still very high,'' the European Central Bank president said at ISEG Lisbon School of Economics and Management on Monday. "The millennials that found a job because of our policy, I'm pretty sure they are okay" with the ECB's strategy.
Four years into an economic expansion, the euro-zone economy is looking so robust that some policy makers are urging the ECB to start planning to wind down its 2.3 trillion-euro ($2.6 trillion) bond-buying plan after the end of this year. Yet they didn't even discuss such a tapering strategy when they met this month, with Draghi noting the low-quality nature of the new jobs being created and calling for patience.
The president later headed to nearby Sintra for the annual ECB Forum, where he hosted a dinner attended by former U.S. Federal Reserve Chairman Ben Bernanke. Draghi said the euro area is "facing robust growth across countries" in contrast to the previous year's event when growth was more fragile and the U.K. had just voted to leave the European Union.
He'll give a keynote speech at 9 a.m. local time on Tuesday, and will join a panel discussion on Wednesday with Bank of England Governor Mark Carney, Bank of Japan Governor Haruhiko Kuroda and Bank of Canada Governor Stephen Poloz.
Click here to set a reminder to watch a live stream of Draghi's keynote.
Portugal, the homeland of ECB Vice President Vitor Constancio, is typical of large parts of the 19-nation currency bloc, with the jobless rate plummeting to less than 10 percent from a high of 17.5 percent at the start of 2013. The rate for people aged 15-24 is down to 24 percent from more than 40 percent.
Yet in a sign of how far the recovery has to go to eliminate spare capacity, the nation's central bank said last week that it's likely to be 2019 before gross domestic product climbs above the level seen prior to the global financial crisis.


Euro-Area Indicators This Week
Survey
Prior
June 27
Italian manufacturing confidence
106.7
106.9
June 28
French consumer confidence
Spanish retail sales
103
2.2%
102
1.8%
June 29
Euro-area economic confidence
109.5
109.2
June 30
German unemployment
Euro-area inflation
5.7%
1.2%
5.7%
1.4%
At the university, Draghi took questions directly and via email and social media on topics including quantitative easing, technology investment and bank failures. He told the students he welcomed "a renewed and welcome interest in coping with this issue of inequality," and said the biggest source of inequality is unemployment.
He also addressed criticism that by depressing interest rates he is hurting savers, but stressed that the ECB's best tack is to keep up stimulus until it restores the price stability that signifies a healthy economy -- and it is "not there yet."
"Recessions are not good for anybody, savers or non-savers," he said. "If there is no growth, there is no saving."
Before it's here, it's on the Bloomberg Terminal.
LEARN MORE