Dimon Says JPMorgan Headcount to Keep Rising Despite Automation
By
People are 'massively overreacting' to threat of technology

JPMorgan CEO calls for training those whose jobs are replaced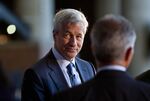 JPMorgan Chase & Co. Chief Executive Officer Jamie Dimon said that the number of employees at his bank will continue to rise as the firm hires more technology workers and expands overseas.
"We're using bots today, it's not going to stop us from opening retail branches" or hiring private bankers or expanding in Africa, Dimon, 61, said in an interview published Monday on LinkedIn. "My guess is our headcount will go up over the next 20 years, not down."
While JPMorgan is using technology to reduce costs, that helps create other opportunities, Dimon said during a discussion on the impact technology is having on employment. In the investment bank, the firm now employs fewer traders and salespeople than it used to, but more engineers and coders, he said. Companywide, the bank had 246,345 employees at the end of March, about 4 percent more than a year earlier.
Dimon, echoing points made in his most recent shareholder letter, also authored a blog post about the steps the bank is taking to help young people learn marketable skills. During his interview, Dimon said that those who lose their jobs amid technological disruption should get income assistance, training and relocation.
Still, he said that people are "massively overreacting" to fears that technology will take their jobs.
"You could have said the same thing when we had 20 million people on the farm," Dimon said. "The economy is a massive thing that's constantly adjusting."
Before it's here, it's on the Bloomberg Terminal.
LEARN MORE