Merkel Doesn't Tweet, But She Keeps an Eye on Trump's Twitter Feed
By
German chancellor spells out clashing views ahead of G-20

Merkel talks about missed handshake during White House visit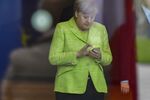 German Chancellor Angela Merkel said her view of globalization "differs very sharply" from Donald Trump's and called on Europe to assert its interests on free trade and combating climate change.
Less than two weeks before hosting the U.S. president and other Group of 20 leaders for a summit, Merkel spelled out divergences while voicing hope that the G-20 will nonetheless produce "a few results." In a panel discussion on Monday, Merkel also revealed that she and Trump discussed his failure to shake her hand at a White House photo opportunity and that she occasionally searches for the president's tweets.
Asked about her comment in May that the days when Europe could count on others "are to some extent over," Merkel said it reflected a geopolitical shift that began under former President Barack Obama and reached a new level with Trump, who views globalization as a contest "where every winner is offset by a loser."
"He has a concept of globalization that differs very sharply from mine," Merkel said in the interview for women's magazine Brigitte at a Berlin theater. "You have to take that into account when we assert our interests. You have to be realistic."
With her Social Democratic election challenger attacking Merkel as soft on Trump, dealing with the U.S. president is a balancing act for the chancellor. While engaging with him on the global stage, Merkel has to take the German public's deep suspicion of Trump into account as she seeks a fourth term in September.
Shaking Hands
Merkel illuminated one of the stranger moments of her first White House visit after Trump's inauguration when the president appeared to ignore photographers' calls for the two leaders to shake hands. Merkel said the gesture would have matched the tenor of their conversation, but that Trump felt that two earlier handshakes were enough.
"We talked about it afterward and that it didn't reflect what our preceding conversation had been like," she said. "His view was that he had already shaken my hand twice."
Another contrast between Trump and Merkel is that she doesn't have a Twitter account. That doesn't prevent her from checking up on the president's tweets with an online search.
"I just take a peek every once in a while," she said. "Then I put in Twitter and Trump, and then I've got everything I need."
Before it's here, it's on the Bloomberg Terminal.
LEARN MORE