Charted
Dallas Builders Can't Keep Up With Demand for Apartments
Only New York is building more units.
By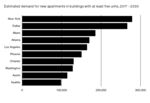 Demand for apartments in Dallas is getting out of hand. Between 2000 and 2015, New York added 212,000 rental units in buildings with at least five units, according to the National Multifamily Housing Council and the National Apartment Association. While less than what the city needs, it's at least in the ballpark. Dallas, however, has built 144,000 such units, so the metro will have to almost double the pace of construction to meet estimated demand.
Before it's here, it's on the Bloomberg Terminal.
LEARN MORE