politics
China Releases Jailed Nobel Peace Winner on Medical Parole
By
Liu Xiaobo has been diagnosed with late-stage liver cancer

Was represented by an empty chair during 2010 Nobel ceremony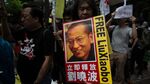 Liu Xiaobo, the jailed Chinese Nobel Peace Prize winner, has been released on medical parole after being diagnosed with late-stage liver cancer, his lawyer said on Monday.
Liu, 61, was granted medical parole last week, according to Mo Shaoping, one of his lawyers, who said he had been notified by Liu's family. He's now being treated at the No. 1 Hospital of the China Medical University in Shenyang, the capital city of northeastern Liaoning province, Mo said by phone.
"I haven't got a chance to visit Liu recently yet, but his condition was pretty grim," Mo said. "According to Chinese law, medical parole should be granted to prisoners who are severely ill."
Liu was detained in 2008 for being one of the authors of Charter 08, a pro-democracy manifesto that calls for an end to one-party rule in China. He was sentenced in December 2009 to 11 years in prison for inciting subversion of state power. In 2010, Liu was represented by an empty chair during the award ceremony for the Nobel Peace Prize, which made him China's most famous political prisoner.
The Liaoning Prison Administrative Bureau posted a statement later on Monday confirming that Liu had been diagnosed with liver cancer and had recently been granted medical parole. It said a team of eight well-known oncologists were now treating Liu.
Long Struggle
Ming Pao, a Hong Kong-based newspaper, posted a short video clip early Tuesday showing Liu Xiaobo's wife, Liu Xia, weeping about his terminal illness. 
"He won't be able to receive surgery, he won't be able to receive chemotherapy," she said.
The Norwegian Nobel committee awarded Liu the peace prize for "his long and non-violent struggle for fundamental human rights in China."
"Through the severe punishment meted out to him, Liu has become the foremost symbol of this wide-ranging struggle for human rights in China," the committee said in 2010.
In response to the award, China suspended ties with Norway and froze free-trade talks, hurting sales of Norwegian salmon in the world's most populous country. The two nations only mended fences late last year, saying in a joint statement that Norway "attaches high importance to China's core interests and major concerns, will not support actions that undermine them, and will do its best to avoid any future damage to the bilateral relations."
It's regrettable that it "had to take a serious illness for the Chinese authorities to release him," the Nobel Committee in Oslo said in a statement on Monday.
"The committee hopes he will now be unconditionally freed and given the opportunity to obtain the best possible treatment for his illness, whether it be in China or abroad," it said. "Finally, we want to remind that Liu Xiaobo has a standing invitation to come to Oslo to receive our praise."
(
Updates with prison statement in fifth paragraph.
)
Before it's here, it's on the Bloomberg Terminal.
LEARN MORE