Brazil Police Report Accuses Temer of Obstruction of Justice
By and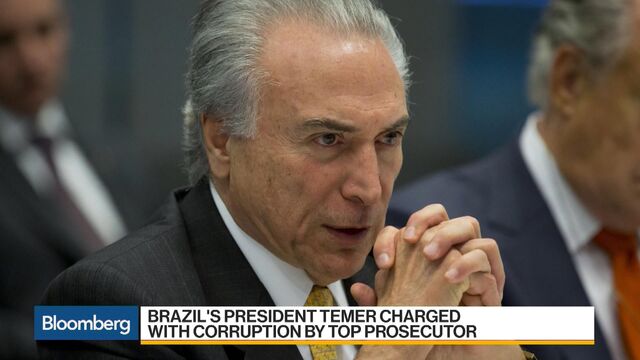 Brazil's federal police accused President Michel Temer of obstruction of justice in their final report to the Supreme Court ahead of expected corruption charges to be filed against the president by the chief prosecutor.

Monday's report follows a similar document sent by police to the court last week, which accused Temer of corruption in a case based on a secret recording between the president and Joesley Batista, the former CEO of meat-packing giant JBS. "The president's defense will prove there was no crime," a spokesman for Temer said via text message in response to the statement.
Brazil's chief public prosecutor is expected to file corruption charges against the president at the Supreme Court by the end of Tuesday at the latest. The court will then hand the request over to the lower house, where a two-thirds majority is needed for the case to go to trial. Temer appears to have enough legislative support to survive, but the process is likely to diminish yet further his low standing and complicate the outlook for his market-friendly reform agenda, according to a report published on Monday by Eurasia Group.
Before it's here, it's on the Bloomberg Terminal.
LEARN MORE