politics
What One Premier's Demise Says About Who Runs Europe's East
By and
Romanian premier's exit shows party boss is really in charge

Power structures in Poland, Serbia also raise questions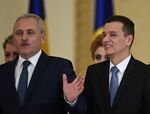 Romania's prime minister was no match for the ruling-party boss who had picked him only months earlier.
A no-confidence vote in parliament last week ended Sorin Grindeanu's stint as premier, with Social Democrat leader Liviu Dragnea corralling lawmakers against him. Until recently, Dragnea was an ally: the pair went fishing in March. But, grumbling about delays in implementing the governing program, he turned on Grindeanu, who refused calls to step down. Dragnea's meddling means that whoever takes over has "no chance of being in charge," Grindeanu said June 21.
While banned from becoming prime minster because of a conviction for trying to fix a referendum, Dragnea nevertheless "expects any premier to listen to him," according to Radu Magdin, a political consultant who's worked in the past with the Social Democrats. Dragnea, in politics for almost a quarter-century, says the governing program is more important than names, and that only he knows it inside out. Both declined to comment for this article.
The drama in Romania, a European Union and NATO member of 20 million people, resembles a trend that's sprouted up in other ex-communist parts of the continent. In Bucharest, Warsaw and Belgrade, politicians in the top jobs aren't necessarily calling the shots. The explanation is often country-specific: in Russia, an early example of the phenomenon, constitutional term limits prompted President Vladimir Putin to temporarily trade jobs with his prime minister in 2008. Whatever the reason, democratic norms are being tested.
Such arrangements "can lead to a lack of transparency and mismatches of responsibility," said Paul Ivan, a Brussels-based analyst at the European Policy Center. "It tends to create a parallel system that impacts, in the end, the governing process."
In Poland, ruling party leader Jaroslaw Kaczynski often sets government policy rather than Prime Minister Beata Szydlo. German Chancellor Angela Merkel met Kaczynski separately in a Warsaw hotel during her February visit. When a police misconduct scandal erupted last month, television cameras showed the interior minister going to see Kaczynski at party headquarters, rather than Szydlo at her office.
Kaczynski, whose low popularity prevented him from running for premier himself, has called the government "an experiment." Szydlo has said she owes her job to Kaczynski's visionary leadership.
Power, Authority
"In Poland, the power is in the hands of the party chief, while the authority is in the hands of the government leader," Vladimir Gligorov, senior economist at the Vienna Institute for International Economic Studies, said by email.
The government is cooperating with the majority in parliament to implement its goals, "which is standard in any democracy," Polish cabinet spokesman Rafal Bochenek said June 22 by phone. A Law & Justice spokeswoman didn't answer calls or text messages seeking comment.
A similar pattern is emerging in Serbia, where Aleksandar Vucic recently swapped the prime minister's office for the largely ceremonial presidency, citing the danger of an opposition politician becoming head of state. Unlike Recep Tayyip Erdogan in Turkey, Vucic hasn't sought to take powers from the premier by rewriting the Constitution. Instead, he's proposed Ana Brnabic, a hand-picked political novice, to take his old job.
While he rejects accusations she'll be a "puppet," Vucic told Serbian TV on Tuesday that she won't be free to pick her own team. Brnabic said she'll "consult with the president on political as well as economic issues. It's him, after all, who provided direction for the government."
Deflecting Blame
Selecting someone with little independent political influence, who can be fired if things go wrong, can insulate dominant leaders from blame and damage to their popularity, according to Michael Taylor, a senior analyst at Oxford Analytica who covers eastern Europe. "This may be happening in Serbia now," he said by email.
The EU has criticized democratic backsliding in eastern Europe, particularly in Poland and Hungary, focusing on a crackdown on the media and the judiciary by the government in Warsaw and Hungarian leader Viktor Orban's steps to build what he calls an "illiberal" state. It's steered clear of addressing the issue of behind-the-scenes leaders.
The bloc is courting Serbia as a future member, and has signed an association agreement -- a precursor to joining -- with Georgia. The ex-Soviet republic's prime minister was billionaire Bidzina Ivanishvili until he stepped down in 2013, selecting his own successor.
Back in Bucharest, Dragnea has now sunk two premiers, having encouraged Victor Ponta to quit in 2015 as anti-corruption protests targeted the political elite following a fatal nightclub fire. He proposed a new one on Monday: outgoing Economy Minister Mihai Tudose. Several potential candidates rejected the position.
That may not be surprising in light of recent events. Those wielding the true power are often able to use scapegoats when the system itself fails, according to the European Policy Center's Ivan.
"It's the case of Dragnea in Romania, who repeatedly said he's responsible for the government," he said. "But he wasn't the one losing his job."
— With assistance by Wojciech Moskwa, Marek Strzelecki, and Gordana Filipovic
(
Updates with candidates rejecting chance to be PM in third-last paragraph.
)
Before it's here, it's on the Bloomberg Terminal.
LEARN MORE