Saudi-Led Demands 'Difficult' for Qatar to Meet, Tillerson Says
By
Tillerson says list does provide basis for 'ongoing dialogue'

Secretary calls for a 'lowering of rhetoric' to ease tensions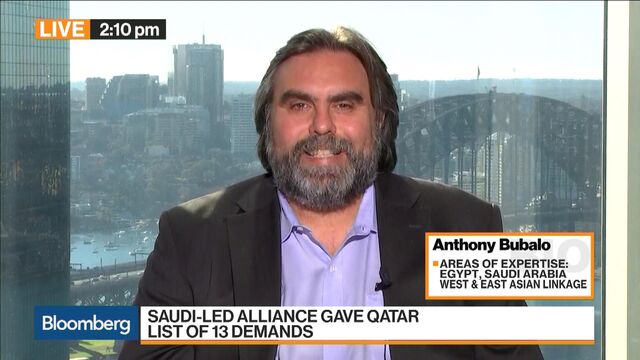 Qatar will find it "very difficult" to comply with some demands made by the Saudi-led bloc to end the Gulf diplomatic crisis, though they can be a basis for talks, U.S. Secretary of State Rex Tillerson said on Sunday.

"A productive next step would be for each of the countries to sit together and continue this conversation," Tillerson said in an emailed statement. "We believe our allies and partners are stronger when they are working together towards one goal which we all agree is stopping terrorism and countering extremism. A lowering of rhetoric would also help ease the tension."
Tillerson had called on the bloc to spell out exactly what Qatar must do to end the diplomatic and economic isolation imposed nearly three weeks ago. The Saudis responded with 13 demands, including shutting the Al-Jazeera TV network, cutting back diplomatic ties with Iran and ending Turkey's military presence in the country -- a list Qatar said was far from the "reasonable and actionable" proposals Tillerson said on June 21 he was seeking.
"Qatar has begun its careful review and consideration of a series of requests presented by Bahrain, Egypt, Saudi Arabia and U.A.E.," Tillerson said. "While some of the elements will be very difficult for Qatar to meet, there are significant areas which provide a basis for ongoing dialogue leading to resolution."
The crisis is adding uncertainty to a region fraught with instability and sectarian violence, and also comes at a time when the Gulf Arab monarchies are trying to attract foreign investment to reduce their economies' dependency on oil exports. Iran and Turkey have backed Qatar in the crisis, with Turkish President Recep Tayyip Erdogan calling the demands an attack on the gas-rich nation's sovereignty and against international law.
Accusations, Denials
The Saudi alliance has severed diplomatic and transport links with Qatar, accusing their fellow Gulf Cooperation Council member of supporting terrorism and cozying up to Iran. The move split families apart, disrupted trade, and threatens to alter long-standing geopolitical alliances. Qatar, which views the action as an illegal siege, has denied the charges.
The blockade of Qatar is "unacceptable" and Tehran's policy is to strengthen ties with Doha, Iran's state-run Islamic Republic News Agency cited President Hassan Rouhani as saying on Sunday. The comments were made in a call with the Qatari emir, according to the report.

Anwar Gargash, the U.A.E.'s foreign minister, said on Saturday that Qatar "cannot be a Trojan horse" with regard to regional security. The country's isolation is about "behavioral change" rather than regime change, he said at a press conference in Dubai.
If diplomacy doesn't work "and Qatar is not ready to acknowledge and address its support for extremism and terrorism, we will have to come and say 'you go your way,'" Gargash said.
Qatar, which had 10 days to respond, is still gauging how to answer. Sheikh Saif Al Thani, director of Qatar's government communications office, said the list of demands falls short of Tillerson's "reasonable and actionable" test and were instead an effort to limit the country's sovereignty.
"The United States will continue to stay in close contact with all parties and will continue to support the mediation efforts of the Emir of Kuwait," Tillerson said.
— With assistance by Golnar Motevalli
Before it's here, it's on the Bloomberg Terminal.
LEARN MORE