Hong Kong's Mr. Market Wants a Piece of All Your China Trades
By
Charles Li shares his outlook 20 years after city's handover

He says companies like Apple, Disney could list in Hong Kong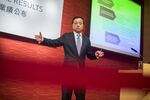 After three years of helping China open its stock market to the world, Charles Li wants to start bringing the world to Chinese investors.
The chief executive officer of Hong Kong Exchanges & Clearing Ltd. is laying the groundwork for new trading platforms that he says will give the planet's biggest population unprecedented access to overseas assets.
The initiatives, which build on HKEX's existing cross-border trading links, will allow Chinese investors to buy international exchange-traded funds and participate in stock offerings by global businesses in Hong Kong. While the city is currently home to just a handful of companies from outside Asia, Li says the prospect of tapping China's vast army of savers could attract Hong Kong listings from the likes of Apple Inc. and Walt Disney Co.
It's all part of the 56-year-old former banker's plan to turn HKEX into the primary conduit for capital-market flows to and from China. His ultimate goal: a trading hub in Hong Kong big enough to rival those of New York and London.
HKEX will become a "global deployment center'' for Chinese wealth, said Li, who detailed his long-term outlook in an interview with Bloomberg 20 years after Hong Kong's handover to China.
It's an ambitious vision, one that could easily unravel if Chinese financial centers like Shanghai and Shenzhen open further to foreigners. But Hong Kong has thrived for years by staying one step ahead of China's reforms, and Li is confident the city can expand its longstanding role as a gateway to the Middle Kingdom.

"Charles has certainly taken the bull by the horns and is far more focused on making Hong Kong a more international exchange," said Fraser Howie, who has two decades of experience in China's financial markets and co-authored the 2010 book "Red Capitalism."
The trading links, which started with the Shanghai Connect in 2014 and expanded to Shenzhen in December, have helped keep HKEX relevant as China develops markets of its own. The platforms were cited as key reasons for the inclusion of domestic Chinese equities in MSCI Inc.'s benchmark indexes last week, and HKEX is expected to open a similar link for Chinese bonds this year.
Read more: A QuickTake Q&A on the Shenzhen stock link
The platforms currently exclude newly-listed shares, ETFs, derivatives and commodities. But Li hopes to eventually add all four, pending approval from Chinese and Hong Kong regulators.
He's particularly excited about the link for new-share sales. Because of China's capital controls, international businesses have found it difficult to tap the country's $23 trillion of household wealth for equity financing. Li's proposal, called Primary Connect, would allow companies like Apple to raise money from Chinese investors in Hong Kong by way of a secondary listing on HKEX -- a new twist on the dual-listing model used for years in the city by British firms including HSBC Holdings Plc and Standard Chartered Plc.
Read more: Charting the changes in Hong Kong's Hang Seng Index over the years
"We will create an Asian time-zone focused liquidity pool that ultimately is going to rival Europe and the U.S.,'' Li said.
The big risk for the former British colony is that China closes the gap between the two jurisdictions' legal and financial systems. That could happen through an acceleration of reforms on the mainland, or via increased meddling by Beijing in Hong Kong's affairs. Concerns over the latter flared up this year after a prominent businessman was allegedly taken by Chinese agents from a Hong Kong hotel.
Read more: Hong Kong's changing relationship with China
For now, China's leaders appear happy to let Hong Kong serve as the country's financial middleman. The closed-loop design of the exchange links, which means Chinese money invested in Hong Kong must return home once traders sell, is particularly appealing to authorities who worry about capital outflows, according to William Barkshire, former co-president of Hong Kong Mercantile Exchange Ltd., a venue for commodity futures that shut in 2013.
The way Li sees it, Hong Kong stands to benefit whether or not China's reforms continue. If the country opens its markets directly to foreigners, it would diminish Hong Kong's role, but also trigger a flood of cross-border capital flows, Li said. In other words, it would leave the city with a smaller slice of a much bigger pie.
"It's a nice problem to have," he said. "Either way, we're going to be fine."
— With assistance by Kana Nishizawa
Quotes from this Article
Before it's here, it's on the Bloomberg Terminal.
LEARN MORE