May's Brexit Offer on Citizens' Rights Leaves EU Demanding More
By , , and
Europeans may be in a worse situation, EU President Tusk says

Role of European judges seen as a major sticking point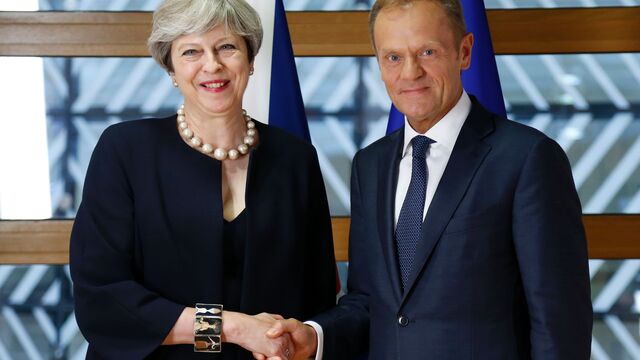 The European Union said Theresa May's proposal to safeguard the rights of EU citizens living in the U.K. after Brexit doesn't go far enough, creating early obstacles for negotiators wrangling over Britain's withdrawal from the 28-nation bloc.
The prime minister, whose governing mandate was weakened after a bruising election this month, told her fellow leaders in Brussels on Thursday of her plans to allow almost all 3 million EU nationals in the U.K. to remain in the country. Several of her counterparts dashed hopes of an early agreement on the issue, saying Europeans would have fewer rights under the proposal.
"My first impression is that the U.K. offer is below our expectations and it risks worsening the situation of citizens," EU President Donald Tusk told reporters in Brussels after the summit. He said it was "obvious" that May wanted to reduce Europeans' rights as part of the Brexit agreement.
May is under pressure to make headway on a citizens' rights accord, after conceding to an EU demand that negotiations on a post-Brexit trading relationship can't begin until "sufficient progress" has been made on the issue. That sequencing of talks gives the EU leverage with the clock ticking to the U.K.'s departure in in less than two years. And although May described her offer as "generous" -- and European officials acknowledge that the plan satisfies some of their requests -- she'll probably need to go further.
Full Proposal
The U.K. is scheduled to leave the EU in March 2019 whether it's reached a deal or not and although negotiators formally started work this week, they haven't yet delved into the details. The British government will publish its full proposal on citizens' rights in London on Monday. Britain's exit bill and new arrangements for the border between the U.K. and Ireland also need sorting before talks can move on.
As soon as May left the EU summit room on Thursday night to allow the other leaders to debate without her, German Chancellor Angela Merkel said that the British proposal wasn't strong enough, according to two diplomats briefed on the discussion who spoke on condition of anonymity because the talks were private.
May's offer "was a good start, but not exactly a breakthrough," Merkel told reporters on Friday. "It became clear in the discussion last night that there's still a long road ahead."
One of the biggest sticking points is the role of EU judges, who the bloc demands must oversee the agreement but who May wants to sideline. There's also lack of clarity over what rights the U.K. will give long-term EU migrants. Currently, British citizens face greater restrictions on bringing non-EU family members into the country than EU nationals do.
To read more about Brexit's repeal bill, click here
The U.K. is also leaving open the question of the "cut-off date" before which EU citizens would have to move to Britain to be eligible, saying only that it will be some time between March 29, 2017, when it began the departure process, and the day it leaves. The EU wants to fix it at the latter date.
Both sides signaled there was some room for maneuver. While European Commission President Jean-Claude Juncker said he "can't see the European Court of Justice being excluded from the settlement," he made clear that it's "a matter for negotiations to resolve."
May also hinted she was prepared to compromise, saying the rights could "be enshrined in international law" as well as being safeguarded by British courts.
'Positive Discussion'
The prime minister dismissed the idea that her proposal had gone down badly and assured families living in Britain that they wouldn't be split up. Asked about a conversation with her Polish counterpart, Beata Szydlo, May said the plans had been well received.
"We had a very positive discussion about the offer that the U.K. had made to EU citizens and indeed other leaders have also reacted positively," May said.
Many EU leaders withheld judgment on the proposal in public, saying issues remained unresolved and that they would wait for the release of the full plan on Monday.
For both sides of the negotiation, there's a long way to go. When Juncker was asked on his way out of the summit if he had a clearer idea about what kind of Brexit deal the U.K. wants, he had one word: "No."
— With assistance by Richard Bravo, Esteban Duarte, Helene Fouquet, Tony Czuczka, Jones Hayden, Marine Strauss, Nikos Chrysoloras, Charlotte Ryan, Jonathan Stearns, and Viktoria Dendrinou
Before it's here, it's on the Bloomberg Terminal.
LEARN MORE