politics
Pro-IMF Mongolia Party Looks to Consolidate Power Over Populists
Michael Kohn
Campaign for Monday's presidential vote marred by mudslinging

Ruling MPP would control all government levers with victory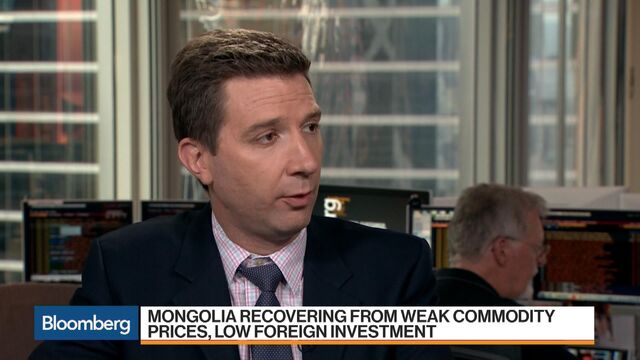 The head of Mongolia's ruling party could consolidate power in Monday's presidential election. First, he must survive one of the ugliest campaigns in the country's history. 

Parliament Speaker Enkhbold Miyegombo has found himself battling leaked tapes and corruption claims as two veteran opponents vie for the last elected office not held by his Mongolian People's Party. His main challenger, Battulga Khaltmaa of the Democratic Party -- which now controls the presidency -- has brushed aside questions about his own finances to promote a populist agenda, including greater controls on the developing nation's vast mineral resources.
Lost in the mudslinging has been debate about the MPP's plan to open more mines and generate enough revenue to recover from the biggest commodity downturn in a generation. The presidency could provide a platform to contest policies that underpin a $5.5 billion International Monetary Fund-led bailout package announced in February, which is expected to stay in place no matter who wins.

"It's getting pretty dirty," said Mogi Badral Bontoi, head of Cover Mongolia, the Ulaanbaatar-based market intelligence firm. "They should be talking about the economy, jobs and the wealth gap but no one is proposing solutions. They are just saying who is going to be worse for Mongolia.''
In Mongolia, the parliament controls the government. The president can veto legislative decisions and is responsible for appointing some key posts, particularly the head of the anti-corruption division.
The MPP has enjoyed broad support from the business community since economic frustration helped it secure a supermajority in the Great Hural last year. In April, S&P Global Ratings projects that the economy, which grew by an average of more than 10 percent annually before last year's slowdown, will contract by 0.2 percent this year before stabilizing.
S&P affirmed its stable outlook for Mongolia's B- long-term credit rating, saying that large mining projects could improve country's sovereign debt profile. Those projects include the $5.4 billion Oyu Tolgoi site operated by Rio Tinto Group, which will be one of the world's largest gold-and-copper mines, and a proposed $4 billion coal project operated by the Mongolian Mining Corp., China Shenhua Energy Co. and Sumitomo Corp.
Populist Themes
No reliable public opinion polls have been released in the nation of 3.1 million people since the candidate list was approved May 17. It's possible that another populist contender, former Mongolian People's Revolutionary Party lawmaker Ganbaatar Sainkhuu, who promises to "take back the natural resources for each citizen,'' garners enough support to force a run-off.
Battulga, 54, says the mining sector, which accounts for more than four-fifths of Mongolia's exports, should be developed "in accordance with national security." Meanwhile, Enkhbold has proposed to "promote transparency and the inclusion of citizens interests and get projects moving as fast as possible.''
"It's interesting times, it's exciting times,'' said Ganhuyag Chuluun Hutagt, a businessman and Enkhbold supporter in Ulaanbaatar. "Here we have the case of Brexit, Trump and Marine Le Pen happening in Mongolia, the rise of populism is not only contained to America and Europe.''
None of the candidates have been spared from scandal during a three-week campaign that comes amid months of debate about the offshore holdings of local officials. They may finally have a chance to confront the claims during a televised debate Saturday. That is, if Battulga, a judo-star-turned-businessman, doesn't cancel for a third time.
Campaign Allegations
Among the campaign's surprises was the release of a three-year-old audio recording that reports say show Enkhbold and two MPP colleagues discussing payments for senior government positions. The MPP denied the allegations and said the tapes were edited to take the remarks out of context.
MPP lawmakers have also accused Battulga of misappropriating mining contracts and called on him to answer questions about online allegations he had large overseas holdings. The Battulga campaign has said both claims were untrue.
Oyungerel Tsedevdamba, a Democratic Party member and former tourism, sports and culture minister, said Battulga would improve the economy by building plants to process Mongolia's minerals at home and railways to haul them to buyers in Russia and China.
"Battulga's passion is noticeable by herders and ordinary people because he has been talking about it for 10 years,'' Oyungerel said. "He has a long history of fighting for major projects that will bring trade balance."
Others, such as internet entrepreneur Tanan Bat-Erdene, of Ulaanbaatar, argued that it was better to give the MPP more power to continue with its economic plans.
"If we want the economy to stabilize the choice is Enkhbold,'' Tanan said. Other candidates "would be political upheavals,'' he said.
Before it's here, it's on the Bloomberg Terminal.
LEARN MORE