How Killing Obamacare Might Save Obamacare, For a While
Republicans once called using money to stabilize insurance markets a bailout. Their repeal bill has $50 billion to do just that.
By and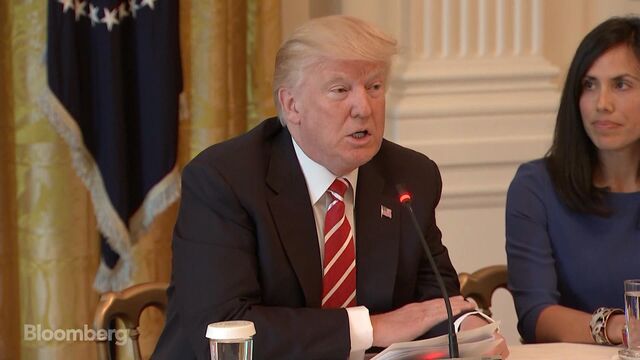 Health insurance companies lost money selling policies in the individual market again last year, as premiums from healthy people weren't enough to cover the costs of the sick. The red ink is a big reason why companies such as Aetna Inc. and UnitedHealth Group Inc. left the Affordable Care Act marketplaces in several states this year.
Now, the bill that Senate Republicans hope will repeal Obamacare includes a pile of money to help struggling insurers in those marketplaces, where about 12.2 million Americans got coverage this year. Specifically, it includes $50 billion over the next four years "to fund arrangements with health insurance issuers to address coverage and access disruption and respond to urgent health care needs," according to the bill text.
That's more than enough to cover the industry's Obamacare losses, new data released Friday by consulting firm McKinsey & Co. indicates. Health plans lost between $5.5 billion and $7.5 billion on the individual market in 2016, according to McKinsey's analysis of regulatory filings.
The Senate bill would allocate more than twice that figure—$15 billion each year in 2018 and 2019—to stem insurers' losses and potentially moderate future rate hikes. Premiums increased more than 20 percent for 2017, suggesting that insurers' results should improve further this year, said Jim Oatman, who co-authored the McKinsey report.
The irony of this big payday is that Republicans fought provisions in the original Obamacare law intended to stabilize the individual insurance market. Back in 2013, Florida Senator Marco Rubio warned that the law would "bail out insurance companies at the expense of taxpayers." Rubio later bragged that "we led the effort and wiped out the bailout fund."
As a result, insurers didn't get some of the money they were counting on. Several of them sued the federal government, claiming they weren't paid the stabilization money as required by law. For example, insurer Molina Healthcare Inc. is seeking $52 million in stabilization payments it says the government owes for 2015 losses, the company said in its most recent quarterly filing. Across the industry, the total sum exceeds $8 billion, a Modern Healthcare analysis found in December.
Health insurers live and die by political whim as well as market forces. Republicans, having stymied the law's original policy meant to cushion health plan losses, are now ready to come through with billions of dollars to put them on a solid footing.
But the bill would also present big challenges for insurers. It does away with Obamacare's requirement—known as the individual mandate—that all people buy coverage or pay a penalty. That could end up harming insurers' profits if only sick people buy coverage, though Republicans say they're working to come up with a replacement. And proposed law reduces subsidies that help people afford coverage, raising the risk that more people may opt to go uninsured.
Still, health-care stocks jumped as the Senate bill was revealed, with the Standard & Poor's 500 Health Care Index hitting a record. The $50 billion to steady the marketplace "is a direct positive for the health insurance stocks," Ana Gupte, an analyst at Leerink Partners, wrote in a note to investors. The consequences for patients likely won't be as bright.
Before it's here, it's on the Bloomberg Terminal.
LEARN MORE