Brexit Bulletin: A Year Later
By
Twelve months after the referendum, Brexit is still a work in progress

Experts weigh in on where they think Britain will be on March 29, 2019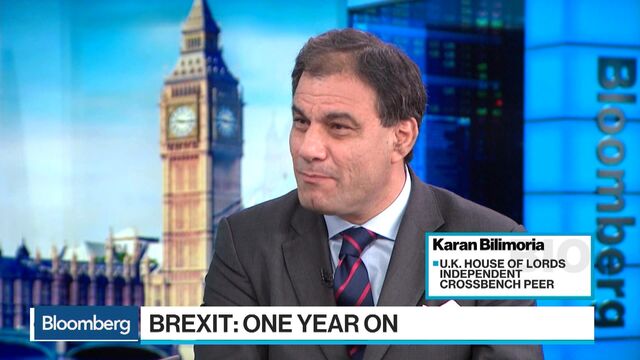 Sign up to receive the Brexit Bulletin in your inbox, and follow @Brexit on Twitter.
This time a year ago, polls suggested the U.K. would vote to remain in the European Union, David Cameron was preparing to spend a couple of years crafting his prime ministerial legacy and a pound bought $1.46.

Now negotiations are underway to leave the EU, Cameron is preparing his memoirs and a pound buys $1.27.
Yet we still don't really know what form Brexit will take and the mystery only deepened following this month's election. It could still be hard, soft or scrambled.
To mark the anniversary of the referendum, Bloomberg asked a dozen or so "Brexit Watchers" what they thought the situation would be on March 29, 2019, when the U.K. is currently scheduled to leave the bloc.
Henry Newman of Open Europe and Global Counsel's Gregor Irwin see ways to a deal. Phillip Souta at Clifford Chance sees a 30 percent chance the talks collapse and Daniela Schwarzer of the German Council on Foreign Relations pegs the probability of no agreement at 50 percent.
Carsten Nickel of Teneo Intelligence even imagines a world where Prime Minister Boris Johnson is plotting to keep the U.K. inside the bloc. Separately, JPMorgan's Malcolm Barr told clients yesterday there is a greater than 50 percent chance that the March 2019 deadline is extended to the end of that year.
We also checked back with the four business leaders we've been monitoring to see how they have fared and what their expectations are.
Citizens' Rights
Prime Minister Theresa May sought to win back some goodwill at a summit of EU leaders by proposing to safeguard the residency rights of the bloc's citizens currently living in the U.K.
It met with a tepid response as governments stressed many issues remain unresolved.
May said in Brussels that almost all 3 million EU citizens in the U.K. will be able to continue living there after Brexit, saying she wanted to offer them as much certainty as possible about their futures.
The issue is one of the key barriers to the EU letting May discuss a trade deal, so a swift resolution is needed. Her counterparts will likely object to her insistence that British courts adjudicate any disputes. Also left open is just when the rights no longer apply.
"It's a first good step which we appreciate," Austrian Chancellor Christian Kern said. "But there are so many details left open and a lot of citizens of Europe are concerned and not covered with the proposal of Mrs. May, so there is a long, long way for negotiations."
Question Time
May still has a lot of explaining to do to EU leaders who are pressing her to clarify her post-election vision for Brexit.
"I have to say, honestly, that since the British election, it's not entirely clear what the strategy is that's being followed," Danish Finance Minister Kristian Jensen said in an interview. "So we're in a very, very difficult situation."
German Chancellor Angela Merkel suggested that the other 27 EU governments need to focus on tasks at hand, such as public safety, economic growth and defense, while the U.K. makes up its mind.
"I want to be quite clear that as far as I'm concerned, shaping the future of the 27 member countries takes priority over the exit negotiations with Britain," she said.
Still, EU President Donald Tusk invoked John Lennon as he held out hope for a British reversal. "Who knows? You may say I'm a dreamer, but I am not the only one," he said.
Parliamentary Obstacles
It could be that May herself isn't sure what Brexit she's seeking.
Tim Ross, Alex Morales and Ed Ludlow review the parliamentary obstacles May must now leap to keep her Brexit program on track as rivals push her to rethink her opposition to staying in the single market and customs union. Among the challenges are a rejuvenated Chancellor of the Exchequer and House of Lords poised to break tradition.
"We've had a general election where Theresa May has effectively lost her mandate for an extreme Brexit," Keir Starmer, the opposition Labour Party's Brexit spokesman, told Bloomberg Television on Thursday. "There is going to be increased pressure for the government to change, to put options back on the table."
The Liberal Democrats have already sought to amend the government's legislative program.

Clearing Challenge
The European Central Bank made a play for power over clearing of euro-denominated financial instruments, a key issue in the Brexit talks.
The Frankfurt-based ECB seeks to change its legal statute to be given a "clear legal competence" over clearing, it said in a statement on Friday morning.
The move came as Morgan Stanley, Daiwa and Nomura all zeroed in on the German financial capital as they look for post-Brexit hubs inside the EU. The city provides easy access to regulators as well as the continent's most populous country and biggest economy.
Gavin Finch outlines the current thinking of all the major banks.
On the Markets
It's been a rough year for sterling and a good one for U.K. equities, but the hazards may be stacking up further amid an unstable government and as the Bank of England faces the risk of stagflation.
After sliding 15 percent, the pound's performance is the worst among major currencies versus the dollar over the past year. While equities have basked in the global stock euphoria — with a helping hand from the weaker sterling — further gains are seen capped near current levels.

The pound hasn't been a complete loser. It has gained versus six of about 150 currencies.

Brexit in Brief
London Mayor Sadiq Khan calls for continued membership in the single market
Home values in London rose at the lowest rate in five years as uncertainty surrounding Brexit damped demand
Nomura predicts the Bank of England will raise interest rates in August for first time since the financial crisis, while outgoing policy maker Kristin Forbes said a hike was merited
S&P would probably only downgrade the U.K. by one level if it had to take action on the credit rating because of Brexit, according to its chief ratings officer
Germany and France struck a backroom deal to locate the European Banking Authority in Frankfurt and the European Medicines Agency in Lille, WirtschaftsWoche reports
Bank of France Governor Francois Villeroy de Galhau pressed the case for forcing major clearinghouses that handle euro-denominated derivatives to base their operations in the EU
Britain's factories saw their order books jump to the highest in almost 30 years this month, with growth across most sectors and export demand improving. That helped lift Bloomberg's Brexit Barometer.
And Finally…
Have you being paying attention? Lorcan Roche Kelly has devised 20 Brexit questions to test your knowledge of the last year.
For more on Brexit follow Bloomberg on Twitter, Facebook and Instagram
Before it's here, it's on the Bloomberg Terminal.
LEARN MORE