business
There Could Be Ketamine in Your 'Natural' Chicken
Consumer groups use a novel strategy to sue a poultry producer over claims the drug turned up in its products.
By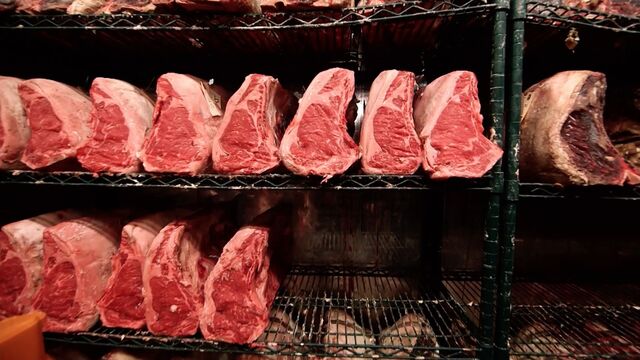 Veterinarians use it as an anesthetic. Psychiatrists have started prescribing it for depression. And thanks to the "out-of-body" experience it gives users, ketamine, or "Special K," has long been a drug of choice for ravers and clubgoers.
But according to a new lawsuit brought by consumer advocacy groups, there's another place the drug might show up: In Sanderson Farms' "100% Natural" chicken products.
The use of "natural" in advertising has long been a catch-all for a lot of things many would consider less than so. Under a U.S. Department of Agriculture Food Safety and Inspection Service (FSIS) program, thousands of samples of meat and poultry products are analyzed each year, looking for residues of certain drugs, pesticides and other contaminants. FSIS can take enforcement action including levying fines or closing facilities. Multiple violations land a company on the Residue Repeat Violator List. Many of these products use the word natural as part of their labeling and advertising.
Ketamine and other questionable substances appeared in FSIS test results of Sanderson chicken, according to the complaint filed in San Francisco federal court Thursday by the Organic Consumers Association, Friends of the Earth, and the Center for Food Safety. Plaintiffs said they obtained the test results through the Freedom of Information Act.
From November 2015 to November 2016, FSIS conducted 69 separate inspections of Sanderson Farms' locations in Georgia, Louisiana, Mississippi, North Carolina and Texas. In 33 percent of the visits, some residue testing came back positive. The plaintiffs counted 49 instances in which "samples tested positive for residues that are not '100% Natural,'" including five findings of chloramphenicol, a potent antibiotic that can cause bone marrow suppression in humans and isn't approved for use in animals that will become food. (Food regulators can seize products found to be tainted with it.)

Desethylene ciprofloxacin, a metabolite of ciprofloxacin, a medically important antibiotic for humans, was found three times, according to the lawsuit. (The use of antibiotics in agriculture has been heavily criticized by public health advocates, who say it is connected to growing antibiotic resistance. Sanderson stands by the practice.) Butorphanol, an opioid analgesic, and melengesterol acetate, a synthetic hormone not approved for use in poultry, were also found. The tests also yielded 82 instances of "unconfirmed residues," including the aforementioned ketamine and some pesticides.
The USDA declined to answer questions about whether enforcement actions resulted from FSIS findings.
"Sanderson Farms does not administer the antibiotics, other chemicals and pesticides, or 'other pharmaceuticals' listed in the complaint with one exception," the company said in an emailed statement. "Our veterinarians do from time to time prescribe penicillin in FDA approved doses to treat sick flocks." The company pledged to fight the lawsuit and continue its ad campaign.
While the Sanderson lawsuit alleges that the substances were found by government testing, additional analysis would be required to confirm the presence of the "unconfirmed residues," according to Larry Bohlen, co-founder and chief operating officer of Health Research Institute, an independent non-profit analytical chemistry laboratory. The ketamine test result in Sanderson poultry was above the USDA's maximum of 20 parts per billion in beef and pork, Bohlen said. That means, he explained, that the sample would be a good candidate for further testing with a method specifically used for poultry.

The consumer groups contend that Sanderson Farms "doses its chickens" but don't explain why. Ketamine might be used to sedate the animals during transport or before slaughter. The consumer groups want Sanderson to concede it violated false advertising laws and pay for a corrective ad campaign.
As Americans gravitate more and more toward healthy eating, the race to take their money has yielded a growing pile of litigation over less than savory shortcuts.
Laurel, Mississippi-based Sanderson Farms is hardly the first food producer to be sued for its use of the word natural. Last year, Richman Law Group (which filed the Sanderson lawsuit) brought a case against General Mills Inc. for the presence of the pesticide glyphosate in its so-called 100 percent natural granola bars and Hormel Foods Corp. for its Natural Choice line of deli meats, which is made with ingredients that the lawsuit alleged weren't natural at all, including pork from pigs raised with antibiotics and synthetic growth promoters. Those cases are still pending. The companies have denied wrongdoing.
The Richman law firm isn't alone in its assault on what consumer groups consider misuse of the word natural. Thanks to having essentially no regulatory definition, the term has been so heavily litigated that in 2015 the Food and Drug Administration asked the public to weigh in. But after receiving almost 7,000 submissions, the FDA chose to stand by its policy that the word means "nothing artificial or synthetic" is in a food "that would not normally be expected to be in that food." 
The problem with that definition, however, is figuring out exactly who is doing the expecting.
No matter. Such is the state of food regulation that an FDA definition wouldn't even bear on the Sanderson Farms case at hand. Poultry falls under the jurisdiction of the USDA. That agency provides slightly more guidance than the FDA, but not much. A product is natural if it contains "no artificial ingredient or added color and is only minimally processed. Minimal processing means that the product was processed in a manner that does not fundamentally alter the product." Under that definition, even chicken nuggets—that emblem of highly processed, additive-laden, junk food—have borne the "100% natural" label. Unlike foods regulated by the FDA, those under USDA rules need approval for label claims such as "100% natural," so lawsuits that tried to challenge such claims would likely be met with successful preemption arguments, citing that pre-market blessing from USDA.
The Sanderson lawsuit, though, attempts to sidestep the issue by focusing on false advertising claims. Advertisements and marketing do not require pre-market USDA approval.
One 2016 commercial, for example, features two folksy Sanderson Farms spokesmen in baseball caps telling viewers that the label "raised without antibiotics" is just "a trick to get you to pay more money" and a "marketing gimmick" because federal law requires that "all chicken must be clear of antibiotics before they leave the farm." As the complaint alleges, however, the FSIS findings show this is not always the case.
In another, from April of this year, the spokespeople discuss the "no added hormones or steroids" label on chicken products, which elicits the sound of canned laughter from a faux audience. "It's funny because it's illegal to give chickens added hormones or steroids," one of the men says. But the plaintiffs note that the FSIS found synthetic hormone, melengesterol acetate, in its residue testing. 
But even with the USDA findings in hand, the lawsuit faces real hurdles, said Christopher Van Gundy, a partner at Keller and Heckman LLP who focuses on food law litigation and regulation. The first is standing. Without evidence that the plaintiffs purchased the products in question based on an alleged misconception, they haven't shown they were harmed. They have to prove they were duped into purchasing the chicken because they thought it was free of all those chemicals mentioned in the commercials.
In other words, "but for" that advertising, they would not have bought the products at hand.
"The question is: How did a substantial number of consumers interpret the phrase, and were they deceived?" Van Gundy said. But even then, it must be shown that they would not have made the purchases without that deception. "It's not even clear people buy based on ads." 
The plaintiffs point to a 2015 Consumer Reports survey (PDF) to make that point, showing, for example, that 64 percent of consumers believe that "natural" means animals were not given artificial growth hormones and 57 percent believe that no antibiotics or other drugs were ever used. But, Van Gundy said, that would not hold up in court on its own.
Gretchen Elsner, a lawyer with the Richman law firm, points to "an evolving area of the law" under a 1982 Supreme Court case, Havens Realty Corp. v. Coleman, which she said can remedy both the standing and the "but for" issues.
"Non-profit groups don't have to show they relied the same way consumers do," she said. Instead, they can come forward in the public interest. For evidence of consumer deception, said her colleague, Kim Richman, at this point they only need to show a reasonable consumer standard.
"Moreover," Richman added, "these companies know it resonates. It's why they expend considerable resources to convey this natural image."
(
Updates eighth paragraph with company statement.
)
Before it's here, it's on the Bloomberg Terminal.
LEARN MORE