politics
Poland Says Ready for Talks, Not Insults, With France's Macron
By
Macron warns eastern EU members that bloc isn't 'supermarket'

EU has criticized Hungary, Poland for flouting rule-of-law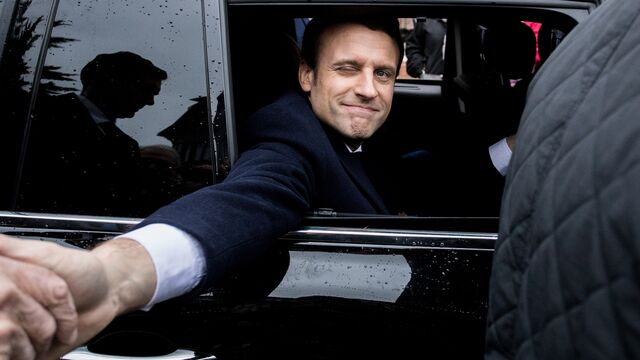 Poland is seeking talks about the future of the European Union with Emmanuel Macron after the French president criticized the approach of some eastern European nations to EU membership.
Macron said in an interview with European newspapers published Thursday that the EU's eastern members can't treat the bloc as a "supermarket," where they can have access to financial subsidies without respecting common principles, such as democracy and solidarity.
Poland, the EU's biggest eastern economy, is locked in a standoff with the bloc's executive about the Warsaw government's failure to adhere to the rule of law after a series of overhauls in the judiciary raised questions over the independence of courts. The nation, along with regional peers Hungary and the Czech Republic, have also refused to take in any migrants, citing what they say are security concerns and putting them on a collision course with Brussels.
"We are ready to discuss with France issues that are crucial for Europe, but it's France that has to decide what it wants," Polish Deputy Foreign Minister Konrad Szymanski told Bloomberg in a message, when asked about Macron's comments. "The alternative is mutual insults via newspapers, which is harmful for ties."
Not Supermarket
The prime minsters of the Czech Republic, Hungary, Slovakia and Poland are due to meet Macron on the sidelines of an EU summit in Brussels on Friday, the Polish government said in a statement.
Besides Poland, Hungary has had the most serious run-ins with the EU over the flouting of the bloc's norms. The European Parliament last month said there was a "clear risk of a serious breach" to the principles of freedom, democracy and the rule of law under Prime Minister Viktor Orban. He has centralized power since 2010 in what he's described as an "illiberal state" modeled on authoritarian regimes such as Russia and Turkey.
"His entree wasn't very encouraging," Orban told reporters in Brussels on Thursday after Macron's newspaper interview. "We felt that the best way to demonstrate friendship wasn't to kick central European countries. We don't do that around here, but he'll learn."
Poland has called for a "reset" of its relations with France after Macron called for sanctions on Warsaw, which he said benefits economically from EU membership without respecting its values. Szymanski has repeatedly said that Poland adheres to the bloc's democratic norms and that France's rhetoric undermined the EU's single market policies.
In his interview, Macron said the influx of labor from Eastern Europe was in part responsible for the U.K.'s decision to quit the EU. He said he has a hard time explaining to voters why companies are shutting factories in France and relocating to Poland while French businesses hire cheaper Polish laborers.
"Europe isn't a supermarket. Europe is a common destiny," Macron said, according to newspapers including the Guardian and Gazeta Wyborcza. "It is weakened when it accepts its principles being rejected. The countries in Europe that don't respect the rules should have to face the political consequences."
— With assistance by Zoltan Simon
(
Updates with Hungarian premier's comments in 7th paragraph.
)
Before it's here, it's on the Bloomberg Terminal.
LEARN MORE