politics
Merkel's Praise Sets Tone for Macron Debut Among European Peers
By and
Chancellor seeks German-French cooperation plan by September

French president seen infusing EU summit with 'creativity'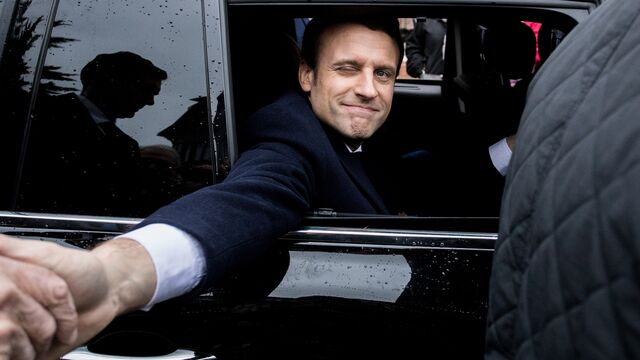 Angela Merkel said she'll present detailed plans for expanded German-French cooperation within three months with Emmanuel Macron, whom she credited with giving Europe a jolt of "creativity" and renewed purpose.
Five weeks into his French presidency, the German chancellor gave Macron an effusive reception on Thursday at his first summit with fellow European Union leaders in Brussels. Having backed 39-year-old Macron over anti-EU candidate Marine Le Pen, Merkel is cheering his arrival as a chance for the EU to move forward after the U.K. voted to leave and U.S. President Donald Trump questioned the bloc's reason to exist.
"We want an ambitious timetable with specific evaluation mechanisms, formulated criteria and first projects," Merkel told reporters in the Belgian capital. "The framework should be finished in three months and then we should start with the concrete implementation."
Macron said at a separate press conference that the two biggest euro-area economies will produce a plan to bring "what we view as the indispensable changes" needed for Europe.
Neither leader specified any projects, a reflection of differing priorities for Macron, who ran as an independent, and Merkel's fiscally conservative Christian Democrats. While Macron hammered home his message that the EU needs to do a better job of sticking up for his workers, Merkel has suggested that a first goal could be to align German and French corporate tax rates.
French-German Spirit
Germany and France worked together on the draft statement to be adopted at the two-day summit, including language on climate change, Macron said.
At their first meeting after Macron's victory, the two leaders said in Berlin on May 15 that they were ready to consider EU treaty changes. They'll hold a joint cabinet meeting on July 13 in Paris as part of efforts to reinvigorate the German-French relationship at the euro area's core.
Before that, they'll meet when Merkel, 62, hosts the annual summit of Group of 20 leaders in Hamburg on July 7-8.
Merkel, who's seeking a fourth term of office in Germany's election on Sept. 24, showed enthusiasm for her new French partner -- her fourth in 12 years.
"Germany and France prepared this summit very well," and the first day of talks already brought out "this creativity and this spirit to move forward quickly," the chancellor said.
Before it's here, it's on the Bloomberg Terminal.
LEARN MORE