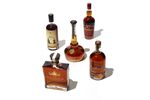 It didn't used to be this way. Roughly 25 years ago, few people cared about Pappy van Winkle whiskey. Though the production out of the Buffalo Trace distillery in Frankfort, Ky., has always been small—around 7,000 cases per year—it was still relatively easy to find. Now its bottles are some of the most sought-after in the world.
In 1996, the Beverage Institute gave a 20-year-old bottle of Pappy a 99 out of 100, its highest score ever for a whiskey. In-demand chefs such as Sean Brock began declaring their obsession with the stuff. Anthony Bourdain even joked that he was getting a Pappy tattoo on his back. Now a bottle of the 23-year-old liquid can run to more than $3,000 on the gray market. 
The hype exists for a reason: Pappy is great. Members of the Van Winkle family have been aging and blending for four generations, and they know what they're doing. My personal favorite is the 15-year version, which to me is the purest example of the recipe—one that contains more wheat in place of rye, which gives the whiskey a softer, more inviting character. For those who merely see this as a numbers game, the top prizes are the 20- and 23-year bottles, but to me, they taste over-oaked and are not worth the price tag. 
In the past seven years, however, the craft distilling boom has skyrocketed the number of U.S. distilleries, from 560 to more than 1,800. Which affords plenty of options for whiskey drinkers looking for their own cult favorites. Here are five to help soften the sting of missing out on that coveted bottle of Pappy.

Hillrock Estate Single Malt Whiskey $100
The Hudson Valley distillery, led by real estate investment banker Jeff Baker and former Maker's Mark master distiller Dave Pickerell, has created a single malt in hopes of rivaling the best scotch across the pond. This gently peated whiskey comes from grain grown exclusively on its estate and distilled in a custom 250-gallon copper still. If you want something with more spice, try the brand's solera bourbon, which uses a technique that borrows from sherry production. The liquid is then stored in oloroso casks. Enjoy it with a little bit of ice.

Willett Pot Still Reserve $82
Willett rye is the one that most often gets compared to Pappy, and it's now similarly scarce. Willett bourbon is a great alternative. The distillery in Bardstown, Ky., has been making whiskey since 1936, and this one—which comes in a bottle shaped like a pot still—was released in 2008. It's got a fresh, fruity nose, and despite its high alcohol content (47 percent vs. the customary 40 percent), it's remarkably gentle.

Old Weller Antique 107 $30
Rumor has it that this bottle represents the exact same recipe as Pappy's—a plausible claim, considering that Julian "Pappy" Van Winkle, originator of the Van Winkle recipe, got his start working for Weller a little more than 100 years ago. The bourbon is also made in the same distillery as Pappy's, with similar amounts of wheat in the recipe. Big, bold, complex, and oaky, it's a great value—if you can find it.

Breckenridge Blend of straight bourbon whiskeys $52
It used to be a shameful secret for U.S. distilleries to reveal they had "sourced" their whiskey—meaning that the bourbon had been bought already made. But Breckenridge Distillery in Colorado bucks tradition and declares right on the label that the bottle blends liquors from Kentucky, Tennessee, and Indiana. The bourbon has a grassy, vegetal quality that finishes with pleasantly bitter coffee notes.

Sonoma County Rye Whiskey $65
In the heart of California wine country, this fledgling distillery, founded in 2010, uses a recipe uncommon among American whiskeys: 100 percent rye, with no corn or barley. It's double-distilled in traditional copper pot stills over a direct fire and aged in new, American oak barrels for at least a year, then blended with whiskeys as much as two years old. With notes of fig, it tastes great on its own or as a base for a Sazerac.
(
Corrects spelling of Frankfort, Ky. in first graf.
)
Before it's here, it's on the Bloomberg Terminal.
LEARN MORE