Japan's Millennials Just Want a Job For Life
By and
Young Japanese seek to avoid risk involved in switching jobs

Support for lifetime employment, one-company careers on rise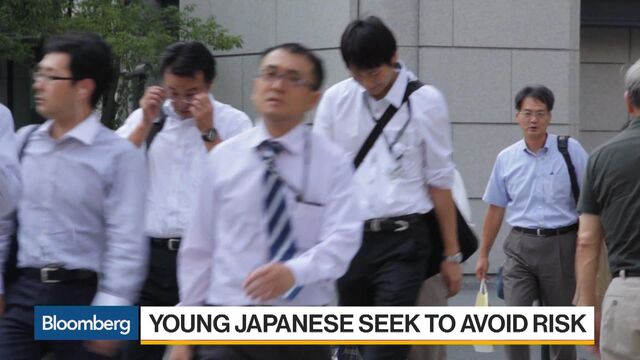 Millennials in Japan have little interest in the job-hopping ways of their overseas counterparts, seeking stability and security instead. That is striking at the heart of the Bank of Japan's efforts to jolt the economy to life.
By some measures, young Japanese today face the best job market in a generation, with unemployment at a two-decade low of 2.8 percent. Offers of coveted permanent positions are on the rise. Yet last year only 6.9 percent of those aged 25 to 34 switched jobs.
That's a problem for the BOJ as it tries to stoke inflation and growth with its unprecedented monetary stimulus. After four years, the central bank is still waiting for the wage increases it says will fuel higher prices. Low worker mobility and a "strong preference for job security" are two of the biggest obstacles to that happening in Japan, the International Monetary Fund said this week.

Mizuki Yamada, 23, epitomizes the thinking that frustrates BOJ policy makers. Stability was her top priority when she was looking for a job. She landed at a major bank, and she said she intends to stay there until she retires.
"I started thinking about it after I started high school," Yamada said. "I was in a school that focused on going to university, so we were taught to study, go to university and get a job."
Changing Attitudes
Japanese employees leave jobs at less than half the rate of U.S. workers. And younger Japanese have grown even more risk averse when it comes to employment.
Among those in their 20s, 55 percent agreed with the idea of spending their entire lives at one company, up from 34 percent in 2004, according to a survey released in September by the Japan Institute for Labour Policy and Training. Nearly nine in 10 said they supported the idea of lifetime employment, up from 65 percent in 2004, the survey found. 
Blame two decades of economic malaise for the shifting attitudes, said Masato Gunji, assistant director of the labor institute's research department.
"Since they were born, they've only experienced bad economic conditions," Gunji said of those in their 20s. "Even if the economy is now recovering, it's a recovery they aren't actually feeling."
In contrast, young people in China "have not seen any form of downturn or recession," said Richard King, senior managing director at Michael Page, a recruitment agency, in Tokyo. "So you've got a fearless employee base who can see that if a job they move to doesn't work out, there are lots of other opportunities out there," said King, who has worked in both China and Japan.
Risk and Reward
To be sure, changing jobs comes with unique risks in Japan, where many companies remain resistant to mid-career hires, and losing a permanent job can often result in falling into the second tier of the labor market as a "non-regular" employee -- doomed to temporary, lower-paying positions.
"If it doesn't work out, you could lose everything," Yamada said. "I don't know yet to what extent I'm able to mess up."
Yet a fondness for security often means missing out on a valuable opportunity to increase pay. Younger workers who change jobs consistently receive increases in compensation, whereas older workers, particularly "regular" employees, report pay cuts.

King said the impact becomes pronounced over the long term.
"I sometimes meet people who've been in a company for 15, 20 years," he said. "Their peers who have moved a few times, who probably went to the same university, are miles above them in earnings."
That's fine with Tadatoshi Sakai, 22, who joined a consulting firm this year. He said he has other priorities, including doing meaningful work and spending time with family. He, too, has no interest in changing jobs.
"Thinking about my future, my expectations aren't too high," he said. "I'll work, get married, have children, and then spend time with my grandchildren in the end."
— With assistance by Hannah Dormido
Before it's here, it's on the Bloomberg Terminal.
LEARN MORE