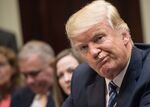 From 2010 to mid-2015, drug stocks soared to record heights on the back of massive mergers and seemingly boundless optimism.
Then, throughout the 2016 election campaign, worries about political pressure to lower drug prices put biotech stocks in a prolonged slump. 
Now there are signs the worst is over. The Nasdaq Biotech Index has outperformed the market so far this year. And this week it has gotten another boost from the growing sense the Trump administration is a friend, rather than foe, of drugmakers.
President Donald Trump has occasionally spooked the industry with fiery anti-pharma rhetoric, as recently as just a few months ago. But his administration is working on an executive order about drug prices that will reportedly ease regulations and include measures for which drugmakers have lobbied. 
The news lifted the Nasdaq Biotech Index by 4 percent on Wednesday, its biggest gain since the election loss of Hillary Clinton, who was considered even unfriendlier to pharma than Trump. Though this rally is in its infancy, there are reasons to think it has a chance to last. 

Biotech and pharma stocks are clearly still in the doldrums. Price-to-earnings ratios for the larger biotechs on the S&P 500 are still far below their past highs and trade at a deep discount to the broader market -- an odd look for a sector that typically trades at a premium. Large pharma is doing better, but it is just keeping pace with the market after several years of outperforming it.

As evidenced by Wednesday's share-price jump, any sign of an end to drug-price worries  would do a lot to restore optimism and stock valuations. The Trump administration's apparent shift in tone helps remove a big overhang. 
The actual policy contents of the executive order are just much-appreciated gravy. The truly important thing is the signal that serious drug-pricing legislation probably isn't happening, along with the perception that stock-crushing Trump tweets will be less likely.
But uncertainty still lingers. The president's mood notoriously shifts in reaction to TV spots, newspaper headlines, and the last people with whom he has conversations. Pro-pharma voices seem to have primacy right now. But headlines taunting the president for being soft on the industry could conceivably lead to an overnight change. It will take time for many investors to feel confident enough that things have stabilized.
One still-missing rally component is M&A. Last year saw little such activity, and -- outside of Johnson & Johnson's deal for Actelion and a couple of generic-drug mergers -- 2017 has been pretty quiet, too. 

There's reason to hope that will change soon. Many big names in the sector have huge piles of cash. Many biotech stocks are still cheap by historic standards. A cooling of political rhetoric could make firms feel better about deals. The voracious need of larger firms for new revenue streams, new pipeline assets, or protection against competition for their older drugs hasn't vanished. It increases with every month of inaction. 
Tax uncertainty is the one obvious barrier. 
Pharma-friendly reform -- with options to repatriate overseas cash and the prospect of boosted free cash flow from lowered tax rates -- has the potential to supercharge M&A.
But even if reform efforts fall apart, that may not be the disaster some anticipate. Once firms know the tax environment isn't going to change, they will have more certainty about what they have to spend. For many large firms, debt is cheap enough that they can do much of what they want, repatriated foreign cash or no. 
Optimism has been foreign to biotech investors for a while. It might be time for a return. 
Before it's here, it's on the Bloomberg Terminal.
LEARN MORE