Politics
Saudis Cling to Tradition
The grand plan to transform the kingdom is meeting resistance in a place that's only known ultra-conservative Islam.
By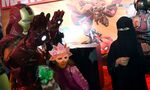 At food trucks off a busy highway in Riyadh, young Saudis kicked off the weekend with burgers and ice cream, the men served by women covered top to toe in black as music muffled the din of generators.
The relaxed atmosphere on a Thursday evening in the run-up to U.S. President Donald Trump's visit in May marked the start of the weekend, but it's an image that stirs uneasiness in the birthplace of Islam. Until a year ago, it would have violated bans to music and sexes mixing in public.
"They're forcing women to do unnatural things, like selling to men," said Abdullah, 35. A government worker moonlighting as a taxi driver, he asked not to be identified by his family name. "They want us to relax by listening to music. Who needs music when you have the Koran?"
The changes that some Saudis are finding so unsettling are part of the grand roadmap for the kingdom's future unveiled by now Crown Prince Mohammed bin Salman just over a year ago. The 31-year-old, elevated as heir to the throne this week in a shakeup of the royal household, is trying to make the country reduce its reliance on oil. 
Yet among a population that's only known an extreme interpretation of Islam, many of the dozen or so people interviewed over a week say the social adjustments that go with it will bring the kind of decadence they were warned about in schools and mosques. That tension with those who welcome it is increasingly evident in Riyadh and could prove challenging for the prince.
The police officers, or "mutawa," who uphold Islamic code on behalf of the religious establishment, were stripped of their powers last year. They are now back cruising the streets and malls of the Saudi capital, always more conservative than the trading hub of Jeddah, ordering women to cover up.

Saudi-backed satellite channels still broadcast ultra-religious messages. The descendants of Sheikh Mohammed bin Abd al-Wahhab, the 18th-century imam whose ascetic brand of Islam dominates Saudi Arabia, have demanded that Qatar remove his name from its biggest mosque. It shows how the religious establishment backs the government's policy toward Qatar, whose Saudi-led isolation is now in its third week.
There was talk in the kingdom of opening cinemas and reducing the time stores are required to close for the five daily prayers, actions that would've directly challenged the conservative clerics. They're yet to happen.
"The leadership in Saudi Arabia, even though there are some liberals among them, is still vulnerable to a potential backlash from the hard-line conservative elements," said Nabeel Khoury, a former U.S. State Department official who is now non-resident senior fellow at the Atlantic Council, an American organization focusing on foreign affairs. "They step around these people like you're walking on eggs."
Inevitable Fight
Ostensibly a blueprint to wean the economy off oil, "Vision 2030" also called for a "vibrant society" with more female workers, sports clubs and entertainment. That made conflict inevitable in a country where religion takes a uniquely central role. The Saudi king holds the title of custodian of Islam's two holiest sites and the country's constitution is the Koran.
As Saudis debate allowing women to drive or whether music is haram, meaning prohibited for Muslims, Gulf countries and city states like Dubai have been prospering economically by opening up to the outside world.
"Ultimately to take economic reforms to their logical conclusion you need social and political reforms to fully liberate the energies of the population," said Khoury. "That can only happen if you reform the religious establishment." 

Abd al-Wahhab's strict teachings permeate every aspect of life. Many Saudis believe that if they accepted the ongoing changes and, say, they listened to songs or interacted with members of the opposite sex, their faith would be put in jeopardy.
Grand Mufti Sheikh Abdulaziz bin Abdullah al-Sheikh, who has said allowing women to drive was "a dangerous matter that should not be permitted," recently told Saudi daily newspaper Okaz that some clerics and scholars were wrong to endorse music because it goes against Islamic teaching.
"The implementation of the vision has created a kind of a shock and the government should've prepared the public for it," said Hatoon al-Fassi, a Saudi historian who teaches at Qatar University. "How can you teach that music, the genders mixing and entertainment are Islamically banned and then put on a concert? It's unfair to those who want to be on what they were told was the right path to suddenly be told it's now okay to have fun." 
The Wahhabis
The Wahhabi brand of Islam has meant change was always cautious and slow in Saudi Arabia. Extremists protested the introduction of radio, television, cars and education for girls, which began in the early 1960s. Some Saudis, while not necessarily approving of the radicalism, see it as protection against corrupting foreign influences. In past times of upheaval, the Al Saud royal family has turned to clerics to shore up its legitimacy, and that meant setting aside any agenda of social change.
In introducing Vision 2030 last year, Mohammed bin Salman said "our status as the heart of the Arab and Islamic worlds" was its primary pillar. "The principles of Islam will be the driving force for us to realize our vision," he said.
For sisters Fahda al-Qarni, 28, and Nof al-Qarni, 25, that was reassuring. Both covered in black cloaks with only their eyes showing, they were happy with the changes and welcomed entertainment opportunities—as long as they conformed to the kingdom's conservative values.
"Religion is very important in our lives and there's no way we're going to give it up," said Fahda, a nutritionist, as her younger sibling nodded approval while waiting in line at a store in Riyadh. "We want Saudi Arabia to remain a conservative country."
With the kingdom trying to cope with the collapse of oil prices, the government sees the economic advantage from opening up society. It's trying to build an entertainment industry, signing contracts with theme-park company Six Flags, to entice Saudis to spend their money at home.
Split Society
The proposed introduction of more western ways has divided Saudis. They range from those who think it undermines the country's Islamic culture to those who believe it's the only way to usher in the 21st century capitalism the deputy crown prince wants.
Several Saudi men said they can't bear the thought of their wives going to the cinema or driving and oppose the reduction of religious classes at schools or ending the mandatory closure of stores during prayer. Like so much of the local workforce, they were all government employees and declined to give their names for fear of reprisals because they opposed the relaxation brought about by Vision 2030.
"The kingdom from its inception has been conservative and not used to this," said Mohammed, 30. "We need housing. We don't need entertainment."
On the other end of the spectrum is lawyer Noha al-Rasheed, 25. Dressed in a white-trimmed abaya, the traditional Saudi full-length cloak, she questions whether the new era of openness even exists.

"I haven't seen anything about helping the community to be more open," empowering women, giving civil rights, equal opportunities, al-Rasheed said at her office. At a recent poetry evening organized by the newly created entertainment authority, her sister's husband had to go to the men's section. "I was shocked to see separate areas for men and women," said al-Rasheed. "It was not a family activity." 

The trick is to allay the fears of people on both sides, according to Aljazi al-Shebaiki, a retired university professor. She said there should be limits and while most of the entertainment events she's attended have been "respectable," a few were not. Some women wore too much make-up, others giggled and sat at the same table as men. People listened to love songs.
"We are the spring of Islam and it's inevitable that we are different from others in our values and religion," she said. "But this should not prevent us from interacting with the rest of the world and encouraging moderation."
At the food truck in Riyadh, bank manager Mashaa Almotairi, 35, said she opened it with a sister and a brother because she loves to cook. At Chop-Chop, she's making five times her salary from working a few evenings a week after work.

Almotairi, who wore a surgical mask rather than cooking burgers laced with pomegranate molasses in her niqab, said being a conservative woman isn't a problem. "Religion doesn't forbid us from working as long as we conform to it," she said.
Ibrahim Alotaibi, 35, owner of a company that makes the food trucks, said those who resist change will come to realize something: "Openness is about opening your mind," he said. "Not opening your abaya."
BOTTOM LINE -
Without reforming its conservative religious establishment, Saudi Arabia's efforts to modernize its economy will be met with internal resistance.
Before it's here, it's on the Bloomberg Terminal.
LEARN MORE