Russia Cancels Talks With U.S. Over Latest Round of Sanctions
By and
Efforts to make Russia submit are 'futile,' official says

U.S. responds that sanctions 'didn't just come out of nowhere'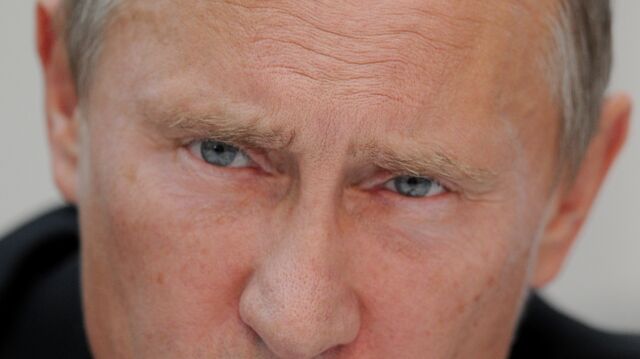 Russia canceled talks with a top U.S. official to protest the latest sanctions punishing Russian companies and individuals over the conflict in Ukraine, in a fresh setback for President Donald Trump's bid to improve ties with President Vladimir Putin's government.
Under Secretary of State Thomas Shannon had been scheduled to fly to St. Petersburg this week to discuss what the two sides call "irritants" in the relationship. But Russia's Deputy Foreign Minister Sergei Ryabkov said in a statement that the new sanctions leave no room for bilateral talks.
Previous U.S. sanctions didn't bring results and "new attempts to make Russia submit will be equally futile," Ryabkov said. He called the sanctions a "political gift" to Ukrainian President Petro Poroshenko, who met with Trump at the White House on Tuesday.
The sanctions announcement by the Treasury Department on Tuesday followed a 98-2 vote in the U.S. Senate for legislation that would increase penalties on Russia and give Congress the power to review any attempt by Trump to lift them unilaterally. While the measure, S. 722, has been blocked in the House at least temporarily over a procedural dispute, it underscores the obstacles confronting Trump's campaign pledges to work with Putin.
Read About the Russia-Iran Sanctions Bill Stalling in the U.S. House
Secretary of State Rex Tillerson has maintained contacts with Russia to address issues such as Ukraine and the war in Syria, but his spokeswoman reacted forcefully to Moscow's cancellation of the meeting with the secretary's top deputy.
"Let's remember that these sanctions didn't just come out of nowhere," Heather Nauert said in a statement. "Our targeted sanctions were imposed in response to Russia's ongoing violation of the sovereignty and territorial integrity of its neighbor, Ukraine."
"We regret that Russia has decided to turn away from an opportunity to discuss bilateral obstacles that hinder U.S.-Russia relations," Nauert said.
Before it's here, it's on the Bloomberg Terminal.
LEARN MORE