climate-changed
Ernest Moniz Is Back
By
Ernest Moniz advisory group will continue his Energy research

First order of business is a grid study to rival Trump's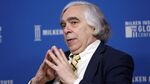 While President Donald Trump's Energy Department is studying how to save coal plants, veterans from the administration of President Barack Obama's Energy Department announced a new effort to figure out how to curtail carbon in the U.S. energy system.
Ernest Moniz, who was Obama's Energy secretary, said Wednesday that there is a "leadership void" under Trump, and his new group would pursue much of the research and analysis that was begun in the federal government under his tenure. Given Trump's budget proposal to cut energy spending by $3.2 billion, Moniz said this nonprofit, called the Energy Futures Initiative, is necessary. 
The budget "just across the board doesn't do the job," Moniz said at the National Press Club. "There is not a credible way to say the budget supports the kind of activities that we were pursuing."
Moniz, a nuclear physicist who has taught at the Massachusetts Institute of Technology, already began a study of the U.S. electrical grid that could rival a similar one initiated by his successor, Rick Perry, at the Energy Department. Perry's review drew criticism from environmentalists and renewable energy advocates because he emphasized the importance of saving struggling coal plants. 
Perry has questioned the science behind climate change, saying this week that ocean currents and the environment may be responsible for it rather than carbon emissions. Moniz, on the other hand, is aiming at figuring out what policies are necessary to achieve "deep decarbonization."
In assembling this research group, Moniz has gathered a number of former Energy Department employees, including Joseph Hezir, its former chief financial officer, and Melanie Kenderdine, his energy counselor who also served as director of the department's Office of Energy Policy and Systems Analysis.
In addition to the group's study of the grid -- expected out later this year -- Moniz said the venture will focus on areas such as energy security like the Strategic Petroleum Reserve, global gas markets, nuclear power and technological breakthroughs. Much of that is work the Energy Department was doing under Obama, work that Moniz said would likely grind to a halt under Trump's budget proposal.
Still, Moniz said no private effort can replace the role of the government.
"Public-private partnerships are important, but the idea that they're going to fill this gap, I just don't see," he said.
Before it's here, it's on the Bloomberg Terminal.
LEARN MORE