News
New Saudi Crown Prince. Same Dismal Oil Market
The new heir has been driving OPEC production cuts to lift crude from the doldrums. Trouble is, the plan isn't working.
By and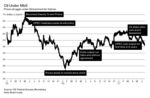 Saudi Arabia's new Crown Prince—Mohammed bin Salman or MbS in diplomatic circles—may now be heir to the throne in the world's biggest crude exporter, but the oil market has been pretty grim since he rose to power in 2015. The prince was a leading voice when OPEC maintained its pump-at-will policy to cripple U.S. shale drillers, a measure that helped send prices to a 12-year low and create the current glut. A reversal in that policy late last year—also led by Saudi Arabia—only created a brief bump that revived shale. With U.S. output now on the rise, West Texas Intermediate crude on Tuesday fell into a bear market, while Brent is almost there. So don't expect a big turnaround anytime soon.
Before it's here, it's on the Bloomberg Terminal.
LEARN MORE