Mexico Finance Minister Sees Rate Cuts as Early as Year End
By and
Meade comments in interview in Mexico City With Bloomberg TV

Banxico may raise rates a couple times before shift to cuts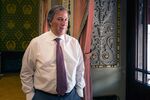 Mexico is probably near the end of its cycle of interest-rate hikes and may be able to lower borrowing costs as early as year end, Finance Minister Jose Antonio Meade said.
The central bank is likely to raise borrowing costs a couple more times, before it starts unwinding that position as inflation slows to less than 4 percent by the end of the year or early 2018, Meade said in an interview Wednesday. Current inflation of more than 6 percent is due to a surge in gasoline prices and a plunge in the peso at the beginning of the year and won't last, Meade said.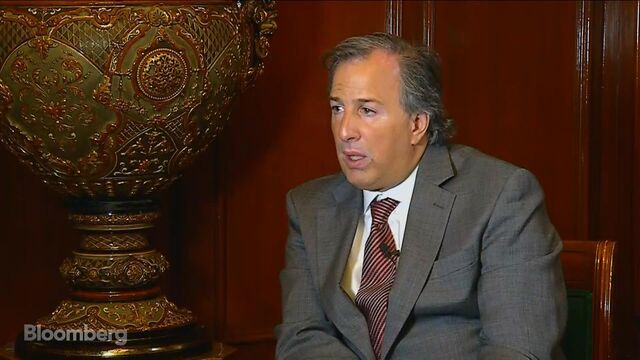 Mexico has raised rates more than any of the other 35 central banks tracked by Bloomberg since the start of last year as concern Donald Trump would end the nation's trade agreement with the U.S. sent the peso to record lows. Pressure on the central bank is now easing after the currency soared 18 percent since Trump's inauguration, the best performance in the world, on signs the new U.S. administration will negotiate an accord that benefits both nations.
"Monetary-policy wise, the inflation expectations are well anchored, and what the markets are seeing is potentially another couple of increases this year, but they're starting to predict that the interest rate could start coming down as early as the end of this year or at the beginning of next, and I think they're right," Meade told Bloomberg TV at the National Palace in Mexico City.
Analysts consider Meade a leading candidate to become governor of the central bank when Agustin Carstens leaves at the end of November to head the Bank for International Settlements.
Mexico's peso briefly extended its loss after Meade's comments and fell 0.3 percent to 18.2465 per dollar in afternoon trading in New York.
Rate Expectations
Banco de Mexico raised its key interest rate for a sixth straight meeting in May, surprising economists who had expected policy makers to opt for a pause. Economists now expect the bank to raise rates another quarter point on Thursday to 7 percent, the highest level since 2009, according to the median estimate in a Bloomberg survey.
Looser monetary policy should help the economy improve in coming years, Meade said.
By 2019, growth is likely to outpace that in the U.S. and Canada amid a better global outlook, U.S. industrial production and slowing inflation, the minister said. That jibes with the view of economists, who see Mexico growing 3 percent in 2019, compared with 2.2 percent for the U.S. and 1.9 percent for Canada.
"We're on the tail end of our fiscal consolidation process," Meade said. "Many things which are now a drag on growth in Mexico should become somewhat tailwinds by 2018, '19 and '20."
— With assistance by Carlos M Rodriguez, and Juan Pablo Spinetto
Quotes from this Article
Before it's here, it's on the Bloomberg Terminal.
LEARN MORE