France Backs Down on West Africa Force Funding Amid U.S. Spat
By
UN resolution patches up a rift between historic allies

U.S. determined to lower UN peacekeeping contributions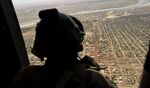 The United Nations Security Council unanimously approved a resolution backing a 5,000-strong West African force to combat terrorism in the Sahel region after France agreed to drop a provision on funding it in response to U.S. opposition.
With the U.S. balking at the possibility the mission would be added to the UN's peacekeeping budget, the French-drafted resolution omitted a request for the secretary-general to come up with options to finance the force as well as any reference to Chapter 7, the UN requirement to "use all necessary means."
Under President Donald Trump, Ambassador Nikki Haley has pressed to rein in UN spending generally and its peacekeeping forces in particular. The U.S. pays about 28 percent of the UN's $7.9 billion peacekeeping budget, more than the combined contribution by China, Japan and Germany, the next largest contributors.

The European Union has already committed $56 million to the Sahel force, and the resolution encourages a donor conference to raise further funding.
The wrangling over the resolution highlighted a rare rift at the UN between France and the U.S., which typically team up with the U.K. in efforts to persuade Russia and China -- the other members of the veto-wielding Security Council -- on resolutions.
"This is a small win for the U.S., and Nikki Haley can point to it as proof the Trump administration is not doing other powers any unnecessary favors in the Security Council," said Richard Gowan, a UN expert at the European Council on Foreign Relations in New York. "But by highlighting divisions with an ally like France on a relatively minor issue like this force, the U.S. also looks a little petty."
Five nations -- Niger, Mali, Chad, Burkina Faso and Mauritania -- will be responsible for ensuring the troops have adequate resources to deal with groups linked to al-Qaeda and Islamic State in the Sahel, a semiarid region stretching along the southern end of the Sahara. European nations including France worry that those groups could launch terrorist attacks on Europe.
French diplomats said it was important to get U.S. backing for the resolution rather than risk a veto.
"With this text we open a new chapter in our partnership with Africa," France's UN Ambassador Francois Delattre said. "There is a strong dynamic, a strong momentum that will come out of this resolution."
Before it's here, it's on the Bloomberg Terminal.
LEARN MORE