markets
China MSCI Decision Puts Onus Back on Xi's Market Reformers
Bloomberg News
Inclusion gives $6.9 trillion equity market tiny weighting

MSCI looking for further progress on trading controls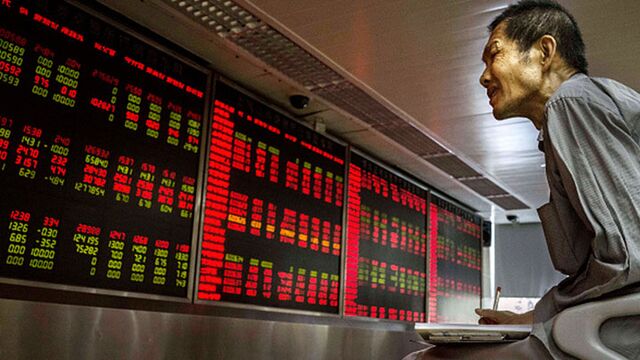 China's initiation into MSCI Inc.'s club has put the world's second-biggest stock market on a new global footing. Yet spinning that endorsement into what really matters -- significant investment flows -- is a whole other challenge.
By August 2018, Chinese domestic stocks will make up 0.7 percent of the MSCI Emerging Markets Index, the index firm said Tuesday. That's a smaller sliver of the gauge than held by Brazil's Itau Unibanco Holding SA, which helps explain the muted reaction by mainland traders on Wednesday. For China to win a standing more in keeping with its economic heft, MSCI made it clear President Xi Jinping would need to take further steps to open his nation's markets.
"China still has a long way to go," said Daniel So, a Hong Kong-based strategist with CMB International Securities Ltd. "Even if the problems are solved within a short time span, it won't mean the MSCI will give the market more weight right away. The index compiler and overseas institutional investors are likely to be cautious."
The Communist leadership's push to give markets a bigger say in China's economy has spurred change in recent years, with the yuan making it into the IMF's reserves basket, and foreigners being granted access to the two biggest mainland stock exchanges via trading links with Hong Kong. Still, authorities remain quick to intervene in capital markets -- sometimes to burn bears, sometimes to put a floor under losses -- and have been reluctant to loosen controls on money exiting the country.

Those controls are among the reasons why MSCI has started small. The index compiler is adding 222 large-cap stocks that are all available through Hong Kong's exchange links, after investors balked at previous proposals.
Liquor Titans to Coal Miners: the Chinese Stocks in MSCI's Club
MSCI said its next steps -- using a bigger slice of A shares' market caps to calculate their weightings, and adding mid-cap stocks -- would be subject to conditions. China needs to further improve accessibility for foreign investors, relax daily trading limits through the Hong Kong exchange links, and make additional efforts to curb trading suspensions.
"We'd like to expand the universe of shares that are available to international investors," Henry Fernandez, MSCI's chief executive officer, said in a Bloomberg Television interview.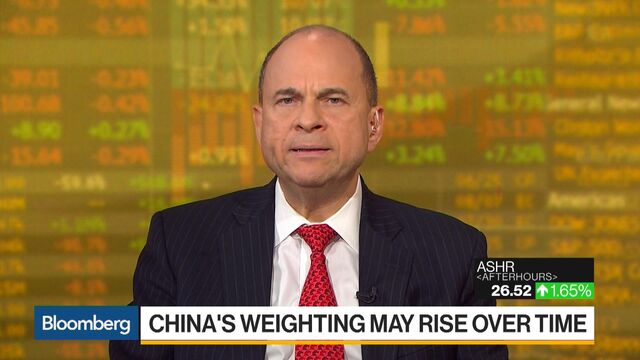 A comparison of inflow projections shows what's at stake. MSCI's planned additions are expected to drive about $17 billion of foreign money into Chinese equities. But Goldman Sachs Group Inc. says $430 billion is up for grabs if China can make it to full inclusion and investors embrace the market, while HSBC Holdings Plc estimated inflows may reach $500 billion over five to 10 years. A cash influx of that magnitude would help shore up the currency, counteract capital outflows, and provide a stabilizing influence on an equity market that's dominated by retail investors.
"Much work still needs to be done by regulators to address remaining concerns about the A-share market, including widespread trading suspensions, stock pledging, selling pressure from insiders, and corporate governance" Steven Sun, head of China equity strategy at HBSC, wrote in a note. "It is in everyone's interest - MSCI, the Chinese government and investors - to correct the mismatch between global funds' exposure to Chinese equities and China's importance to the global economy."
Company officials agree. The inclusion of BYD Co.'s A shares will diversify the company's investor base, helping with long-term developments and expansion overseas, according to a spokesman for the auto manufacturer. Spring Airlines Co., a budget carrier, views MSCI status as an opportunity to get brand recognition overseas, while noting there'll probably be more pressure to deliver on earnings.
The China Securities Regulatory Commission said on Wednesday that it welcomed MSCI's decision and will improve its rules to meet the needs of foreign investors.
Read More: A QuickTake explainer on how China won inclusion
The benchmark Shanghai Composite Index, which has lagged behind global peers this year, dropped 0.3 percent at the close on Thursday.
"We view this as a starting point for further reform in China's capital markets and as a result further inclusion in MSCI and other major global benchmarks," said Shan Lan, who works on global index strategy at Macquarie Group Ltd. "The impact to China A shares will be profound in the long term, as this may gradually change the mix of retail and institutional investors, leading to a more matured market with more long term investors and less speculators."
Still, headway may be slow. It took South Korea and Taiwan six and nine years respectively from their first inclusion to winning a full weighting, even though they started with much bigger inclusion factors, according to Macquarie.
Given their tiny initial weighting, domestic Chinese shares will be dwarfed by the nation's overseas-traded stocks. The country already has the largest position in the MSCI Emerging Markets Index, with Tencent Holdings Ltd., Alibaba Group Holding Ltd. and Baidu Inc. alone accounting for 8.3 percent of the overall weighting. But China's $6.9 trillion domestic equity market -- the second-biggest worldwide after America's -- is also home to many of the companies most aligned with China's consumer and service industries, which are seen as key drivers of the $11 trillion economy's long-term expansion.
"Chinese equities entering MSCI reflect China's position in the global economic landscape," said Catherine Yeung, Investment Director at Fidelity International. "We expect the weighting to increase gradually to reflect its economic position."
— With assistance by Amanda Wang, Kana Nishizawa, Jeanny Yu, Tomoko Yamazaki, Dong Lyu, and Ying Tian
(
Closes prices in 12th paragraph.
)
Before it's here, it's on the Bloomberg Terminal.
LEARN MORE