markets
China's Elusive Arbitrage Trade Is Back on the Radar After MSCI
By and
Hang Seng China AH Premium Index in focus following review

Valuation differences between A and H shares may narrow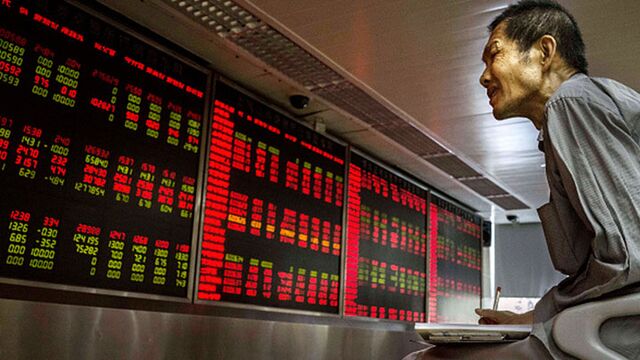 The price gap between Chinese stocks listed domestically and in Hong Kong is seen narrowing now that MSCI Inc. has decided to include both in its indexes.
"As a market opens and you've got two prices for the same thing, you should see the prices converge," said Mark McFarland, chief Asia economist at Union Bancaire Privee. "It ought to work that way."
MSCI made the landmark decision to add China A shares after rebuffing them for three years, meaning global asset managers have a new reason to get familiar with both versions of roughly 60 dual-listed shares. What they'll find, for the most part, is that China's domestic stocks are more expensive: The Hang Seng China AH Premium Index, which tracks the average price difference for the largest companies with both A and H shares, shows those on the mainland at a 23 percent premium.

Profiting from that gap has proven difficult in the past. Valuation differences were expected to narrow after the Shanghai-Hong Kong exchange link opened in 2014, but they grew instead. Still, since China's stock boom turned to bust in the middle of 2015, the price differential between the markets has become less extreme.
"For the last two years or so you've seen that gap narrow," McFarland said in a phone interview. "You would've expected the differential to narrow more."
Read more: China Stocks Win MSCI Entry as $6.9 Trillion Market Goes Global
Bocom International Holdings Co.'s head of research Hao Hong said the greater integration of China's equity market will over time likely lower the valuation of A shares to the global level.
The issue for Ken Wong, a client portfolio manager at Eastspring Investments Hong Kong Ltd., is that the shares can't be traded in the two markets. "The ultimate goal eventually may be to have these shares fungible," he said. "But that's a long term thing."
Also down the line, Chinese shares listed in Hong Kong could disappear as companies delist there and issue shares on the mainland, according to Sean Darby, chief equity strategist at Jefferies Hong Kong Ltd. He added that institutional demand will grow for shares on the mainland.
"Put yourself in the shoes of a big institution," Darby said. "Finally they have a choice between H and A. Tactically and strategically they'll start buying more A shares. That means H shares become redundant really."
— With assistance by Jeanny Yu, and Kana Nishizawa
Before it's here, it's on the Bloomberg Terminal.
LEARN MORE