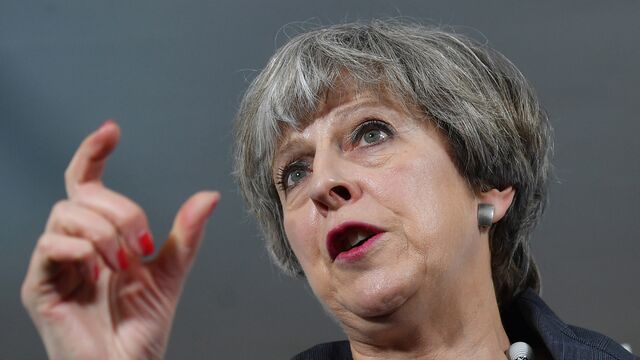 The Repeal Bill published by Prime Minister Theresa May's government on Thursday -- downgraded from the "Great" Repeal Bill -- will be seen as a milestone in Britain's ongoing departure from the European Union. Its passage into law not only will involve a pile of paperwork, but it has opposition lawmakers and the Scottish government raring for a fight. There are many months of work ahead -- and no shortage of additional legislating -- before Brexit is a reality.
1. What does the Repeal Bill do?
It repeals the European Communities Act of 1972, which gave effect and priority to EU law in the U.K. It signifies that the British are taking control of their legal destiny. At the same time, the bill will graft EU statutes into British law books, maintaining the status quo.
2. What does that accomplish?
The two-year time frame for Brexit makes it impossible to replace all EU law with new domestic legislation. The hope is that by adopting EU laws for now, the U.K. will reassure companies and investors that nothing will change precipitously during the Brexit process, "maximizing certainty for individuals and businesses," May's office said in a briefing. A future government will then be able to "amend, repeal and improve any law it chooses," subject to international treaty obligations, May has said.
3. How many laws are we talking about?
The Brexit Department estimates that the government will need to pass 800 to 1,000 statutory instruments to correct EU law after Brexit. There are 5,155 regulations and 899 directives among almost 19,000 pieces of EU-related legislation currently in force, according to the House of Commons library. EU regulations, which automatically become law in member states, cease to apply upon repeal of the European Communities Act. Directives are catalysts for home-grown laws, implemented and enforced by member states as they see fit.
4. Isn't that a lot?
Yes, and the number was a bone of contention during the referendum, prompting the Leave campaign's successful slogan offering voters the chance to "take back control." The Commons library estimates that 13.2 percent of U.K. laws enacted between 1993 and 2004 were related to the EU. As a result the repeal is one of the largest legislative projects ever undertaken in Britain.
5. Will EU laws be copied exactly into U.K. law?
Rupert Harrison, who advised former Chancellor of the Exchequer George Osborne, called the exercise the "Great Copy and Paste Bill" when it was first announced. But in sections where EU legislation refers to European regulatory bodies, British ministers must change the wording and identify appropriate U.K. bodies to take on those roles. The government confirmed on Thursday that it plans to leave the nuclear body Euratom and end the jurisdiction of European courts. This may not be easy -- in the case of Euratom, the body that governs nuclear cooperation between countries, opponents warn that leaving could endanger U.K. access to everything from cancer treatments to nuclear fuel.
6. So how will the government change the laws?
The government plans to award ministers the ability -- sometimes known as Henry VIII powers after the Tudor monarch -- to change laws without consulting Parliament. May's office says these powers will be time-limited.
7. Will Parliament put up with that?
This is where things could get sticky. Opposition leader Jeremy Corbyn said before the election that his Labour Party is "not going to sit there and hand over powers to this government" to "override democracy and just set down a series of diktats on what's going to happen in the future." With the Scottish National Party in no mood to facilitate Brexit -- and May relying on votes from Northern Ireland's Democratic Unionists -- a small rebellion by her fellow Conservatives could upend this part of the plan. The House of Lords may also try to stymie the measure. May attempted earlier this week to build cross-party consensus and shore up her position, calling on opposition parties to "contribute, not just criticize." 
8. Will Scotland, Wales and Northern Ireland have a say?
The Scottish Parliament will be given a vote on the bill, because of the so-called Sewel Convention under which the U.K.-wide chamber would not normally legislate on policy areas where competences have been devolved. The consent motion"wouldn't be binding at all" on the U.K. government, according to Professor Michael Keating, professor of politics at Aberdeen University and director at the Centre on Constitutional Change. But choosing to proceed without Scotland's consent would "change the constitution because the constitution is based upon conventions. The U.K. parliament has never overridden the Scottish parliament." A similar principle applies to the Welsh Assembly, and in theory, the Northern Ireland Executive.
9. Speaking of Corbyn, will Labour back the bill?
As it stands, no. Labour's Shadow Brexit Secretary Keir Starmer has set out six tests that the Brexit bill must pass in order for the Labour party to lend its support when it goes to a vote in the autumn. One of these tests is the incorporation of the EU's charter of fundamental rights into U.K. law, which the repeal bill explicitly says won't happen. The party also wants the deal to "ensure a strong and collaborative future relationship" with the EU, defend rights and protections, protect national security, ensure the fair management of migration and deliver for all the regions of the U.K. Finally, it demands a comprehensive trade agreement which delivers the "exact same benefits" Britain currently enjoys as members of the single market and customs union, which will prove difficult to deliver.
10. What happens when the U.K. and EU have different rules?
For many companies that trade with the EU, it may prove easiest to comply with EU regulations in order to allow their goods to be sold across the bloc.
11. Are some rules viewed as off-limits to changes?
The repeal bill also means the government pulling out of the European Charter of Fundamental Rights but May has promised to build on EU protections for working people, which include paid vacation time, health and safety at work and maternity leave. "Let me be absolutely clear: existing workers' legal rights will continue to be guaranteed in law -- and they will be guaranteed as long as I am prime minister," May said in October. Her phrasing was seen as significant, as it wouldn't bind her successor to follow her pledge.
The Reference Shelf
Before it's here, it's on the Bloomberg Terminal.
LEARN MORE