technology
Altice USA CEO Goei Thinks Ahead to M&A on First Day of Trading
By and
No. 4 U.S. cable company seeking acquistions to keep pace

Shares climb 9 percent in initial public offering in New York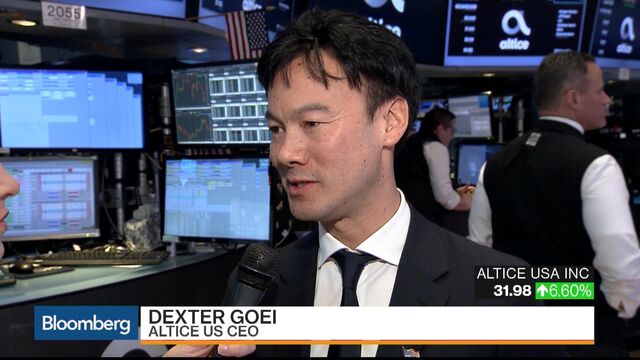 Minutes after the first public trades of Altice USA Inc. shares, Chief Executive Officer Dexter Goei's thoughts turned to acquisitions.
"We'll look at everything," Goei told Bloomberg TV Thursday. "We just really want to be ready. We are here today to be ready, have a currency."
Altice USA raised $1.9 billion in an initial public offering, the second-biggest U.S. offering of the year. While most of that money went to existing shareholders, Altice USA can now use its stock as capital in future transactions. Goei's pivot may seem abrupt for a year-old company whose stock has been trading for less than a day, but he's thinking about acquisition targets because he must keep pace.
Altice USA, backed by billionaire Patrick Drahi, operates in an industry that's defined by deal activity. The bigger the customer base of a cable company, the more leverage it will have negotiating with TV networks to lower programming costs. The fight for market share has intensified as consumers move away from traditional TV services. Altice USA is the fourth-largest U.S. cable company by customers, with about 4.9 million customers, and still sees buying more U.S. cable providers as its first-choice option.
"We like what we have, so Altice USA is focused on cable, likes cable," Goei said. "I think we'd really like the opportunity to have more cable if that was possible. If that's not possible, we'll look at other things."
Possible targets include closely held Cox Communications Inc., the No. 3 U.S. cable company, Bloomberg reported in April.
"To the extent that Cox, its board and its shareholders want to give us a call we'd be happy to take that call," Goei said in a phone interview Thursday. Cox has said it isn't for sale.
Wireless Future
Altice USA's biggest rivals have made forays into other markets, including wireless. Comcast Corp. and Charter Communications Inc., the two largest U.S. cable providers, last month announced plans to collaborate on their wireless businesses.
Goei says he's talking to mobile-phone providers about a similar arrangement that would allow Altice USA to sell wireless services to its customers. He said his company is "too small" to think about acquiring a wireless company.
AT&T Inc., which became the biggest U.S. pay-TV operator when it acquired DirecTV in 2015, is awaiting regulatory approval for its $85.4 billion takeover of Time Warner Inc. Last year, Charter acquired Time Warner Cable Inc. for $55.1 billion and Bright House Networks to become the second-largest cable-TV provider, trailing only Comcast.
Altice USA's IPO comes exactly one year after it was formed when its parent, Altice NV, closed the acquisition of Cablevision Systems Corp. That business was combined with Suddenlink, which Altice bought in 2015. Accounting for the Cablevision acquisition, Altice USA posted a net loss of $721.6 million in 2016 on revenue of $9.2 billion.
Shares Climb
On Thursday, Altice USA, under the ticker ATUS, climbed 9 percent to $32.71 at the close in New York.
The company, based in Bethpage, New York, and some existing shareholders sold 63.9 million shares for $30 apiece, within the marketed price range of $27 to $31 each. The size of the deal was increased Wednesday afternoon, as Canada Pension Plan Investment Board and BC Partners boosted the number of shares they planned to sell in the offering, according to a filing.
JPMorgan Chase & Co., Morgan Stanley, Citigroup Inc. and Goldman Sachs Group Inc. led the IPO, according to the filing.
Before it's here, it's on the Bloomberg Terminal.
LEARN MORE