U.S. Expands Russia Sanctions as Trump Meets Ukrainian Head
By and
Treasury adds Russian officials, mercenaries to sanctions list

Penalties to stay until Russia meets Minsk terms, Mnuchin says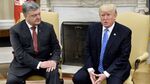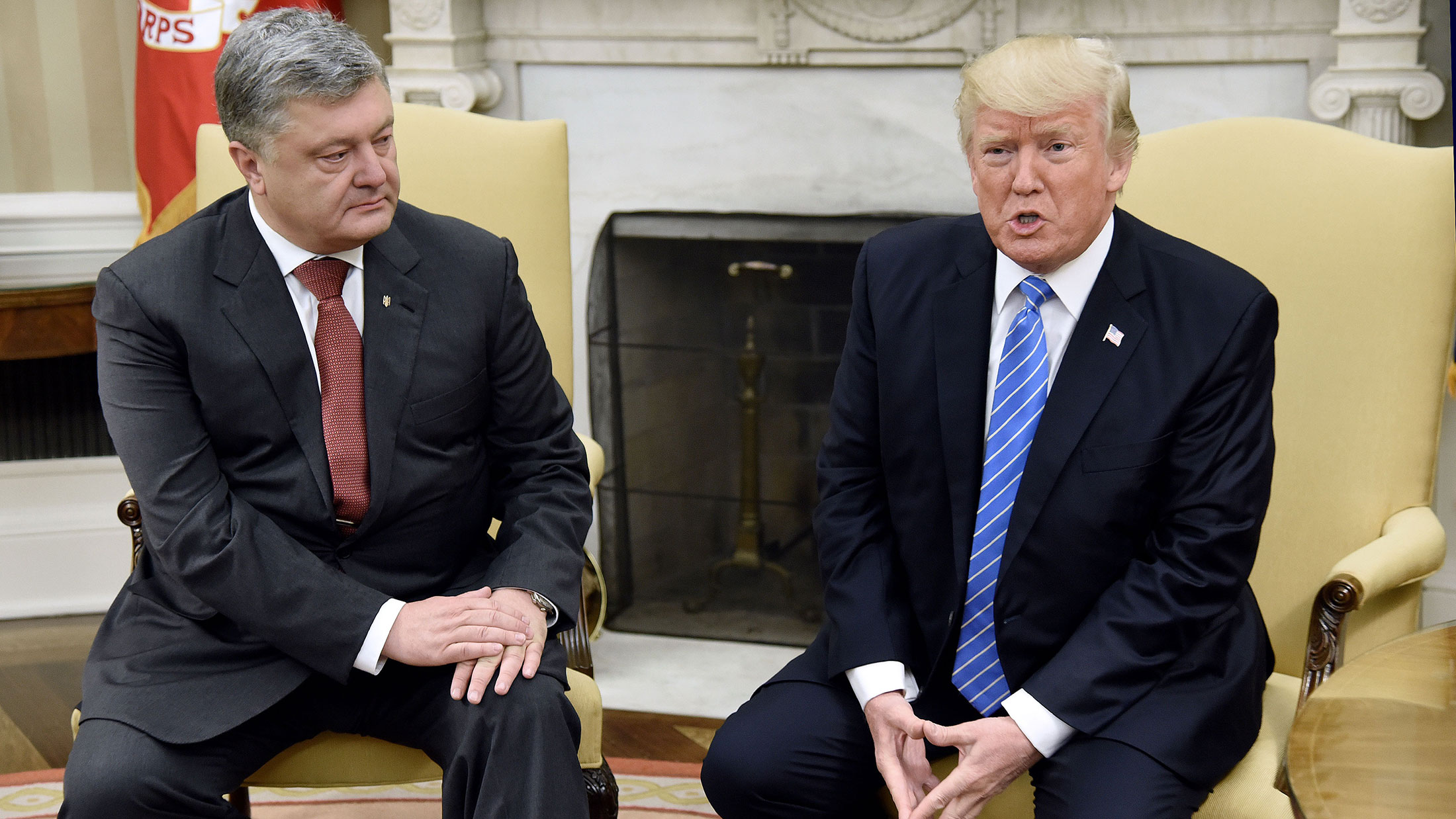 The U.S. Treasury Department imposed sanctions on more Russian companies and individuals as well as separatists in rebel-held areas of eastern Ukraine as President Donald Trump held White House talks with Ukrainian leader Petro Poroshenko.
The measures "are consistent with the U.S. commitment to seek a diplomatic resolution to the crisis in Ukraine," the Treasury said in a statement Tuesday. Sanctions over the fighting in eastern Ukraine "will remain in place until Russia fully honors its obligations under the Minsk Agreements," while measures "related to Crimea will not be lifted until Russia ends its occupation of the peninsula."
The ruble extended declines against the dollar, weakening to the lowest level since Feb. 2. It was down 1.9 percent at 59.6263 at 7:36 p.m in Moscow. The May 2026 Eurobond dropped, with the yield rising nine basis points to 4.16 percent, the highest since March 31. Five-year credit default swaps advanced nine basis points to 174, the highest since March.
Read How Poroshenko's 'Drop-In' Meeting Gives Him a Jump on Putin
Ukraine relied heavily on the support of Trump's predecessor, Barack Obama, as Russia annexed Crimea in 2014 and stoked the three-year conflict on the two nations' border that has killed more than 10,000 people and displaced 2 million. The U.S. was instrumental in imposing the Western sanctions on Russia and also provided billions of dollars in aid along with some non-lethal military equipment. The European Union extended its Russia sanctions over the annexation of Crimea for a further year on Monday.
While Trump suggested during his election campaign that he may recognize Crimea and relax the sanctions, probes into his team's relationship with Russia have delayed any detente.
'Party of War'
Ukraine is a "place that we've all been very much involved in," Trump said at the meeting with Poroshenko. "We've had some very, very good discussions. It's going to continue throughout the day and I think a lot of progress has been made."
By expanding sanctions, the U.S. is "deliberately pouring water on the mill of the party of war in Kiev -- those who don't want a settlement and are interested in the breakdown of the Minsk agreements," Russian Deputy Foreign Minister Sergei Ryabkov said, according to the RIA Novosti news service. Russia will take retaliatory steps, while the U.S. action is another "missed opportunity to move toward improving our bilateral relations," he said.
The Treasury move comes as the U.S. House weighs a Senate proposal to bolster sanctions on Russia and limit Trump's authority to unilaterally lift existing restrictions. Under the legislation, new sanctions could be levied on entities engaging in "malicious cyber activity." It would also require the administration to explain any moves to ease or lift sanctions, and create a new mechanism for Congress to review and block such efforts.
The legislation would put into law penalties that were imposed by the Obama administration on some Russian energy projects, and allow new sanctions on state-owned entities including in mining, metal, shipping and railways. It would ask the administration to prepare a study on the possible effects of expanding sanctions to cover sovereign debt and any derivative products.
Stalled Accord
There's little prospect of a speedy resolution to the conflict. A 2015 peace accord negotiated by the leaders of Russia, Ukraine, Germany and France in Minsk, Belarus, has stalled as fighting continues to flare. The Kremlin has recently extended control over key economic links with the rebel republics, using a blockade imposed on the separatists by the government in Kiev as political cover.
Two Russian government officials are included in the latest sanctions as well as two people "acting for or on behalf of a government official" and 38 individuals and entities under Ukraine-related authorities, the Treasury said. There are also "two entities that are owned or controlled by an individual previously designated, and 11 individuals and entities that operate in the Crimea region of Ukraine," according to the statement.
The sanctioned individuals include Russian Deputy Economy Minister Sergei Nazarov, who's in charge of humanitarian supplies to separatist-controlled areas of Ukraine's Donetsk and Luhansk regions, and Alexander Babakov, President Vladimir Putin's special representative on engagement with Russians abroad.
Mercenary, Caterer
Dmitry Utkin, also known under his nom-de-guerre Wagner, the founder of a Russian mercenary detachment that's been involved in fighting in Syria, was added to the list as head of the private military company "that has recruited and sent soldiers to fight alongside separatists in eastern Ukraine."
Two companies connected to Yevgeny Prigozhin, a wealthy businessman who provides catering services to the Kremlin and the Russian military, were sanctioned. So was a motorcycle center in Moscow belonging to Alexander Zaldostanov, known as the Surgeon, who's already under sanctions as leader of the Night Wolves bikers' club that's backed Putin's annexation of Crimea.
IFD Kapital, a holding company part-owned by oil billionaires Vagit Alekperov and Leonid Fedun, and the head of its management board Olga Plaksina, were included in the new round of measures. The group owns a hotel complex in Crimea that it took over after its former managers shuttered it in response to previously announced U.S. sanctions. Sergey Kiselev, a representative of IFD Kapital press office, declined to comment.
The Treasury also identified 20 subsidiaries that are at least 50 percent owned by state-owned oil-pipeline operator Transneft PJSC, which is already on the U.S. sanctions list.
The sanctions "maintain pressure on Russia to work toward a diplomatic solution," Treasury Secretary Steven Mnuchin said in a statement. "This administration is committed to a diplomatic process that guarantees Ukrainian sovereignty, and there should be no sanctions relief until Russia meets its obligations under the Minsk agreements."
— With assistance by Jennifer Epstein, and Ksenia Galouchko
Before it's here, it's on the Bloomberg Terminal.
LEARN MORE