GOP Health Bill Kept Secret From Senators Assigned to Write It
By
Lee of Utah says Obamacare replacement not 'written by us'

McCain says he hasn't 'met any American' who has seen the bill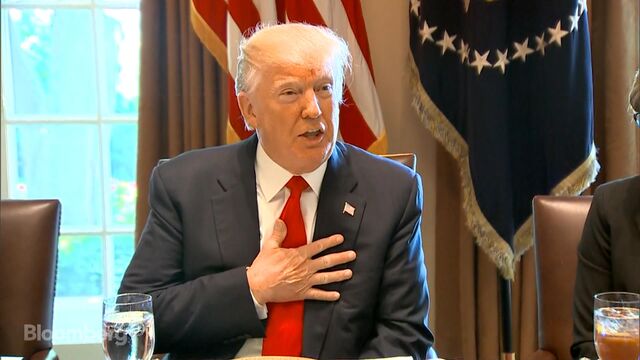 One of the Senate Republicans charged with negotiating an Obamacare replacement expressed frustration Tuesday with the secret process, saying that even he hasn't seen the proposal set to be released in two days for a possible floor vote next week.

"I haven't seen it yet, either," said Senator Mike Lee of Utah amid complaints by other Republicans that they don't know what's in the health-care measure being drafted by their own party's leaders.
Majority Leader Mitch McConnell said he plans to release a "discussion draft" Thursday and that it will go to the Senate floor for a vote "likely next week."
A week or so to examine the bill isn't enough, said Lee in a video posted on his Facebook page. As one of about a dozen members of a health-care working group, he criticized the closely held process of drafting the measure.
"Even though we thought we were going to be in charge of writing a bill within this working group, it's not being written by us," Lee said. "It's apparently being written by a small handful of staffers for members of the Republican leadership in the Senate. So if you're frustrated by the lack of transparency in this process, I share your frustration. I share it wholeheartedly."
At least half a dozen Senate Republicans say they're not sure they can support the measure.
"I'm very eager to see the language," Senator Susan Collins of Maine told reporters in Washington, adding that she's concerned about the possibility of a vote on the Obamacare repeal measure next week. "I don't think it gives enough time to thoroughly analyze the bill, but we'll see when it comes out."
Senators Jeff Flake of Arizona and Pat Toomey of Pennsylvania also said they're withholding judgment.
Arizona Republican John McCain, asked whether he's seen the bill, said, "No, nor have I met any American that has. I'm sure the Russians have been able to hack in and gotten most of it."

Asked how the Senate measure would differ from the version passed last month by the House, McConnell said, "I wouldn't want to compare it to the House bill. It'll be different, take a different approach."
"Everyone will have adequate time to take a look at it," McConnell said, although the measure is being negotiated in private and won't go through any committee hearings.
Republicans control the Senate 52-48 and plan to use an expedited procedure to pass a health plan with as few as 50 votes, plus a tie-breaker from Vice President Mike Pence. That would bypass the usual 60-vote threshold and keep Democrats from blocking the measure.
QuickTake Q&A: Why Insurers are Getting Antsy About Obamacare
Democrats are angered about the secretive bill-writing process. Senate Minority Leader Chuck Schumer of New York complained that "no one in America" has seen the measure and that McConnell plans to allow only 10 hours of debate on it on the Senate floor.
The measure is the "textbook example of a mean bill," Schumer said, referring to reports that President Donald Trump called the House GOP health-care bill "mean." The minority leader accused Republicans of "sabotaging" the current Obamacare marketplace.
White House spokesman Sean Spicer told reporters, "The president clearly wants a bill that has heart in it." He added, "Any ideas are welcome to strengthen it."
Other top Republicans -- including Finance Chairman Orrin Hatch of Utah -- have said they don't know what's in the bill either.
Senator Lisa Murkowski of Alaska, one of the key moderate holdouts, said leaders shouldn't expect to be able to buy off her vote with an Alaska-specific solution.

"This is like a really big deal to get this right for the country," Murkowski told reporters. "Let's just say that they do something that's so Alaska-specific just to quote, 'get me.' Then you have a nationwide system that doesn't work. That then comes crashing down and Alaska's not able to kind of keep it together on its own."
'Get the Copier Out'
Senator Rand Paul of Kentucky, who insists the bill must not provide more generous health-care subsidies than Obamacare, said the measure should have been debated "in the open." Using a one-party approach is setting up failure over the long term, he said.
"It might be time to get the copier out," he said. "We still haven't seen the bill."
When the House was debating its health-care bill earlier in the year, a grassroots campaign against the measure nearly derailed it as GOP lawmakers were bombarded by hostile questions at town hall meetings. An Obamacare replacement eventually passed the House last month, 217-213.
Democrats on Monday started using procedural roadblocks to slow down routine Senate business, and if a GOP measure is put on the floor they will propose many amendments to try to prevent passage before the week-long July 4 recess. Opponents of a replacement plan want to pressure Republicans to turn against it while they're home with constituents.
The House measure would cut Medicaid by $834 billion over a decade, repeal $664 billion of Obamacare's tax increases on the wealthy and the health-care industry, and end requirements that individuals get health insurance and that most employers provide it. It would replace Obamacare subsidies with tax credits based primarily on age, and let states get waivers from some of the Affordable Care Act's consumer protections.
23 Million Americans
The nonpartisan Congressional Budget Office says the House bill would cause 23 million more Americans to be without health insurance by 2026. A May 16-22 Kaiser Family Foundation poll said 55 percent of Americans have an unfavorable view the bill, H.R. 1628.
Senate Republicans are considering a more modest version, including a slower phase-out of Obamacare's Medicaid expansion, better protection for people with pre-existing conditions, retaining some Obamacare tax increases, and tax credits based on income as well as age.
GOP Senator Bob Corker of Tennessee said he is expecting a bill text by Thursday and is "oriented" toward wanting to support it but can't say yet how he would vote. Leaders are "trying to hit the sweet spot" on issues like the Medicaid expansion.

"I just don't know how it's going to end up right now," Corker said.
Paul said he sees a risk that the Senate bill will include subsidies for insurance purchases that are higher than the House measure's level, which he said is about 90 percent of what Obamacare offered.
'A Nonstarter'


"One of the key things I'll be looking at when it comes out, when we get a copy, is are there more subsidies in our bill than Obamacare," Paul said. "That to me really is a nonstarter."
"I still think there's a chance that if they don't get 50 votes we renegotiate what's in the bill completely," Paul said. "I think we could start over."
The GOP also must navigate abortion policy. Restrictions on abortion funding in the House bill are opposed by at least two Senate Republicans -- Collins and Murkowski -- but if removed could thwart House approval of a final measure.
Underscoring the differences, a group of House Republicans drafted a letter to send to McConnell later this week expressing "serious concerns" about the Senate proposal. The House Republican Study Committee, lawmakers who advocate small government, insists on keeping the House bill's abortion restrictions, Medicaid cutbacks and state waivers of Obamacare consumer protections.
Absent a Senate plan, Democrats sought Tuesday to highlight the House bill's impact on senior citizens, after the CBO said premiums for many could soar if it became law.
"There's no doubt that this bill, if it actually passes and becomes law, that Americans over the age of 50 will be the worst off," Senator Kirsten Gillibrand, a New York Democrat, said at a news conference.
— With assistance by Steven T. Dennis, Erik Wasson, and Sahil Kapur
Before it's here, it's on the Bloomberg Terminal.
LEARN MORE