Roku Device Sales Blocked in Mexico on Piracy Concerns
By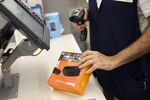 Roku Inc. set-top boxes were pulled from the shelves of major department-store chains in Mexico after a court blocked sales of the devices, saying they could be hacked to let users view pirated movies and TV shows.
Salespeople at department stores Liverpool and Palacio de Hierro told newspaper Reforma they were ordered to stop selling Roku boxes due to "legal issues," the paper reported Tuesday. Hackers in Mexico offer services to alter the device, still sold through Amazon.com Inc.'s Mexican site for 899 pesos (about $50) for one model, so users can access programming that normally would require a paid subscription, like HBO or Hulu.
Cablevision, a cable provider controlled by Grupo Televisa SAB, obtained a court order temporarily blocking the sale of the device, Tricia Mifsud, a spokeswoman for Los Gatos, California-based Roku, said in an email. The court order also required some banking institutions and convenience stores to stop accepting monthly payments to hackers.
"Our platform rules prohibit the distribution of content that violates copyrights," Mifsud said. "We are working diligently with our distributor in Mexico to restore availability of Roku players in retail. Roku itself was not sued by Cablevision."
Cablevision, based in Mexico City, said it's one of many companies affected by hackers exploiting Roku devices. "It's a complex network we have detected that sends funds received in Mexico to South Korea," the company said in a statement.
Liverpool and Palacio del Hierro didn't immediately respond to requests for comment from Bloomberg. Closely held Roku's investors include Fidelity, 21st Century Fox Inc. and Viacom Inc.
— With assistance by Joshua Brustein
Before it's here, it's on the Bloomberg Terminal.
LEARN MORE